Team can expect blast from John Kirwan after patchy play against Rebels.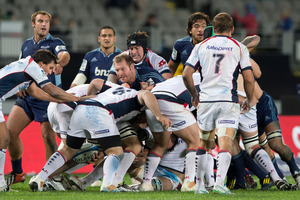 The Blues know they are in for a barrage today.
It won't be pretty after coach John Kirwan berated them for their lax training last week then dished up another halftime prescription list at Eden Park.
Like the Reds the night before, the Blues raced out to an impressive 29-10 at the break and then clung on for the 36-32 victory.
Kirwan was much more measured with his post-match utterances than he will be when his squad regroups today for their next tilt at the Crusaders.
"We need to learn to be ruthless," Kirwan said.
"We will take the five points, that is a real positive for us. It could have been a bit of a banana skin but it wasn't and we need to keep trying to work towards an 80 minute performance."
Players had yesterday to dwell on their latest Super 15 victory and suit up for some sort of salvo from their coaching crew.
They know it's coming, just not when and how.
They will be on edge which won't be a bad thing before their return joust with the Crusaders on Saturday in Christchurch.
The general unrest after another victory shows how far the levels of ambition and desire have moved on from last season's shabby campaign. The Blues are already two victories ahead of their 2012 results list but know their playoffs target is in jeopardy if they do not lift their standards.
The Blues defence softened as they conceded five tries which required a late rally and try from Rene Ranger to seal the deal.
Victory continues the strong success chart the Blues have built with four wins, a bye and one loss in the last six rounds. More of the same variety they showed against the Rebels, will not be good enough against the Crusaders.
Captain Ali Williams has to reset the standards as he often speaks about those levels on and off the field.
He has looked broken and slow in the last few matches and downcast and forlorn long after the final whistle on Saturday.
"I feel like I have let the side down," he said.
"I'm pissed off with how I played, I let the team down. It's probably one of the worst games I have played in a long time."
Lineout miscues, scrum uncertainty and rare defensive frailty will quickly fill out the Blues work-on job sheets. "If we are going to have a chance against the Crusaders then our set piece has to be right on," said Kirwan.
"When you watch them play if you don't get your set piece right then you are going to be under the pump.
"I thought there was some good stuff tonight and we wobbled at times and I think that was the general feel of the game. Our defence was pretty soft in the second half and we need to work hard this week.
"We have the Crusaders and Brumbies and there shouldn't be any professional rugby player who doesn't get excited about that.
"We need to play our best. It is a very important few weeks."