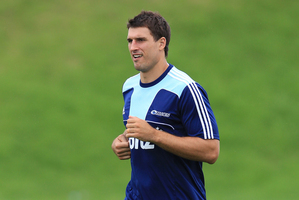 One start does not make a player's reputation, but it has soothed some anxiety for Blues lock Anthony Boric.
The former All Black has overcome neck surgery and bit-part rugby roles in a lengthy journey back from the brink of retirement.
He started his first game in 14 months against the Rebels and was still there when referee Garratt Williamson blew time on the Blues victory.
There were moments when Boric was not sure about hitting rucks, and a few lineout snafus, but he toiled steadily to the finish.
Round him the Blues flattened off as they sat on a decent halftime lead once they had bounced out of the blocks against the Eden Park visitors.
"We talked about it so it is disappointing it happened," he said. "But it will leave no doubt about where our mindset has to be against the Crusaders.
"We have realised what we can achieve when we put it all together and we want to keep winning."
Boric did not need to see the statistics to know many would be season-worst numbers for the Blues.
He also knew a huge victory for the Blues would not have been the best preparation for this round's tilt against New Zealand's benchmark Super 15 side.
Boric's survival gives the Blues more depth to help captain Ali Williams and Culum Retallick, who have been the side's favoured locks this season.
Selections will be knotty in several positions, especially in midfield where Francis Saili was sharp after injury removed the reliable Jackson Willison.
Five-eighths Chris Noakes was not as dependable as usual and was hooked not long after halftime after missing four from six kicks.