With his third Rotorua Cup in the trophy cabinet jumping career looms for winter star.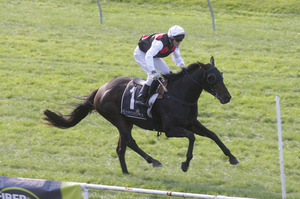 The jury might be out on whether we see Saturday's $70,000 Rotorua Cup winner Indikator racing over fences soon, but the smart money says we will.
Inevitably, it will depend on a couple of factors - most prominent of which is the handicap elevation Indikator receives for his third Rotorua Cup victory.
And right here it needs to be said co-trainer Keith Opie is far from complaining about the way his crowd-pleasing favourite has been treated in the handicap arena.
"I thought Dean Nowell [chief handicapper] treated us extremely well with the 59kg he gave us for Saturday's race.
"Indikator is only a pony who struggles when he gets to the 60kg and above.
"I thought Dean was very fair with us and I knew this was our last chance to prove the old bloke was capable of coming back to his best.
"If he didn't win this I knew we couldn't make excuses for him and that we'd have no choice but to put him over fences."
Indikator didn't win, he thrashed the opposition, an inevitability that was obvious as far out as the 700m.
However, it was his first major success since winning the Rotorua Cup two years ago. Since then, big weights have dogged his progress.
It's interesting to note that in 21 starts since he won the 2010 Rotorua Cup (with 56kg) he has not carried less than 57kg and often around the 60kg and more.
Pushing Indikator towards a jumping career is the lack of suitable races on the flat for the rising 10-year-old, but an even greater incentive is that in the jumping field he starts off at the bottom of the handicap
Opie says Indikator is a thoroughly good jumper.
"He's been jumping since he was a 3-year-old and he loves it: hurdles and steeplechase fences.
"Don't worry, I wouldn't even think about switching him to jumps racing if he had no experience."
Opie knows what a good jumper is - he rode over fences for only three seasons, but was the country's leader in that field for two of those years.
"I was lucky that I was with DJ [Dave O'Sullivan] when he switched all those good handicappers of his to jumping."
Self-praise does not sit comfortably, but Opie has been on the case of Indikator's wave-length for quite a while. "He's like all of us, when you've done what he's done, been around 70 times, there are things you feel and not every day is the same.
"When he got beaten with no excuse at Te Rapa last start we came home and wondered whether that might be the end of his flat career.
"Early this week I took a risk. Instead of galloping him, I sprinted him up twice on Tuesday morning.
"He's been such a spoilt little bloke that if you don't mess with his mind he'll switch off.
"It's one of those things that if it comes off you're a hero and if it doesn't then you've got it all wrong."
It more than came off.
Indikator and Reese Jones swept past the field before the home bend and although the favourite Sum Up made something of a challenge, the result was never really in doubt.
The fast-finishing Dark Bishop edged past Sum Up and into second in the closing strides.