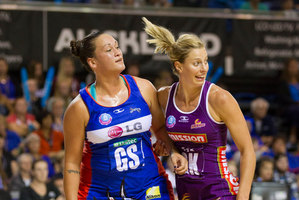 While she is as accurate as ever, Mystics shooter Cathrine Latu admits she has gone missing too often this season.
Still regarded as the No2 goal shoot in the country behind Irene van Dyk, Latu has yet to live up to her high standards this season. On the surface, her statistics look impressive - she has shot 215 goals at 96 per cent, missing just eight goals - but there is much more below those numbers. Put simply, she's not missing - she's gone missing.
In a team that has lacked cohesion and fluency, Latu has struggled at the end of the chain. She hasn't been able to get free enough and isn't putting up the volume of shots required. The 1.89m Latu has struggled in the past with the close marking Australian style of defending but recently has looked uncomfortable against her compatriots.
"I do think that I am just about hanging around average at the moment," Latu said. "I'm not as effective as I think I am. I need to sort that out myself; it's only me - it's not something anyone else can do for me. These are all things I am trying to work on in training and let them spill over into the game."
Where they were once renowned for their flair, speed and innovation, the Mystics of 2013 have looked slow, ponderous and hesitant. The uncertainty has been most pronounced at the attacking end, where a lack of flow has led to errors and turnovers as the feeders struggle to find Latu and Maria Tutaia.
"Sometimes I think the ball can come in and it doesn't," says Latu. "We need to work on why; I need to make myself more available as it is my job to get the ball. Though on the same side of that coin, the ball needs to be let go a bit more too. It's a connection thing."
As a sign of how low the Mystics have sunk, they have lost twice to the Tactix this season, after the Canterbury franchise had won just four games in the past three seasons. Respite seems a long way away. They face the Steel and Pulse and still need to play the Magic twice before the end of this campaign.
"It's been hard to find links between the new players and those of us that have been here a while," says Latu. "While it looks like we have a great team on paper we haven't actually played together as a unit that much. We can only do so much when Kayla [Cullen] comes into centre and then Grace [Rasmussen] goes into centre - they are such different players."
Similar to league's Warriors, the Mystics were in the grand final less than two years ago and good enough to finish on top of the table last season, equal with the Vixens. For those used to success - like Latu, Tutaia and Cullen - it has been a massive fall from grace. "It is extremely hard," says the 26-year-old Latu. "Winning is a habit so when you don't feel it for a while it is hard not to self destruct.
"But we need to pick ourselves and each other up. There is nothing worse than seeing the older members of your team self destruct so we are staying very clear of that."
"Surprisingly, despite what we have read and heard in the media, we aren't killing each other. You might expect us to get into a room and scratch each others eyes out but we are not. We are still backing each other 100 per cent. We haven't given up - we are still working and we have to maybe sidetrack our goals to just getting a win."
Hovering in the background are the Silver Ferns. For someone who endured such a long and public wait for her chance in the black dress, Latu doesn't want to let it go easily. Ferns coach Wai Taumaunu says she would be loyal to her under-performing Mystics stars and they would have the chance at trials, but her patience will only stretch so far.
"[The Ferns] are always at the back of my mind but that is also where I need to keep it at the moment," says Latu. "I have a big task on not to let this season get me down. I just need to help the Mystics. I need to keep upping my game and keep standing out so it does help my Ferns' chances."
Latu will need to be prominent today if the Mystics are to avoid their second home defeat in a row when they face the Steel. The southern team, driven by the pure scoring power of Jhanielle Fowler (who averages more than 50 goals a match), will be slight favourites to repeat their round six victory.
The Steel are coming off back-to-back victories for the first time since 2010, while the Mystics have the worst defence in the competition and are conceding almost 70 goals per game.