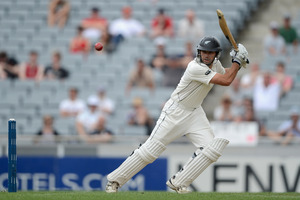 A primary objective for Dean Brownlie on the England tour is to avoid being typecast as a test batsman who scores runs only on hard, fast wickets.
A statistical glance suggests this: in 12 tests Brownlie has played 21 innings, scoring 656 runs at 32.80. Eight innings came on Australian - he played at age-group level for Western Australia - and South African pitches, noted for prodigious bounce and carry. On those wickets, he has 368 runs at 52.57. In the remaining 13 innings across New Zealand, the West Indies and Zimbabwe his aggregate is 288 runs at 22.15.
So there is a point to prove ...
Brownlie is redressing this. He started with 71 in the first innings of the win against Derbyshire - the second top score behind BJ Watling's 77.
"I don't want to be pigeon-holed as only good on hard and fast pitches. There is still bounce and carry in England but I think the key is to hold back and play the ball under your eyes.
"England has a quality seam attack - that creates a real challenge because over here the [Duke] ball's not just swinging in the first 10-15 overs, it's often the full 80."
Brownlie exudes a quiet confidence about his England chances as he contemplates batting at No5 in the first test at Lord's, starting Thursday night. He acknowledges competition from Martin Guptill and Tom Latham is keeping him focused.
Brownlie has form in England. He had a successful 2003 season in Kent playing with the Whitstable club and intends to catch up with a few ex-clubmates when he gets some downtime. The Whitstable Times were still gushing about him as a favourite son in January, describing him as "a shining light" after he saved New Zealand further humiliation with his maiden test century in Cape Town after 'the 45'.
Speaking to the Herald on Sunday in November 2011, Whitstable club stalwart and groundsman Mike Tritton remembers in a one-dayer against rivals Lordswood, Brownlie hit 53 off 15 balls.
"I think the 50 might've come up in 12," Tritton said, happily fuelling the yarn about his housemate that summer.
Redeemed test opener and then-Canterbury captain Peter Fulton has also been impressed since Brownlie decided to seek his fortune in Christchurch during 2009, courtesy of father Jim's New Zealand passport.
"He always looked like he belonged but I think it is forgotten what a courageous decision it was to make the move."
Modesty prevents Brownlie reliving past glories. However, since the 28-year-old's original international selection in December 2010, the Herald on Sunday has asked several players and identities close to the team about Brownlie's attitude and commitment. The responses have unanimously endorsed him.
Brownlie is looking forward to debuting at Lord's and the associated pampering, such as freshly laundered whites each morning and a gourmet lunch menu.
"I'll be happy with anything once I get in that dressing room," Brownlie says. However, he acknowledged getting his name permanently etched on the visitors' honours board is top priority.