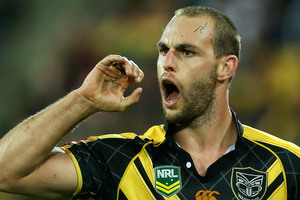 Usually seen as more solid than spectacular, Simon Mannering has added a new offensive edge to his game in 2013. It's no more simple Simon.
In recent times, Mannering has often been labelled the King of the One per centers. He's always there making the extra tackle, doing a tough hit-up out of trouble, chasing down a try-scorer to narrow the angle on a conversion, or cleaning up a loose ball. It's work fans don't necessarily notice but coaches and team-mates love.
Based on early evidence, the 26-year-old has more attacking spark. He is now part of the attacking artillery, not just the defensive shield.
In his last three matches, (before last night's clash with the Bulldogs) he produced seven offloads, whereas in the entire 2012 season, he managed just 11. He is hitting gaps at speed, popping passes before the line to be more of a threat to opposition defences.
"It has come from having better structures as a team," says Warriors coach Matt Elliott.
"If everyone is doing their job, then players like Simon will get more opportunities in one-on-one situations."
Says Mannering: "You always try to improve as a player and my biggest area of improvement was probably my attack. So if I am improving in that area then I'm happy.
"It's part of your role in the back row and it is something you see Feleti [Mateo] do really well - create a lot of second phase. I don't think you go out there with that one thing in your mind - it just happens - but if you want to get better at it you need to work on those things."
While the Warriors' back row has been more workmanlike than flashy in recent times (think Lewis Brown, Elijah Taylor, Ben Henry, Todd Lowrie, Micheal Luck), Elliott wants more from his captain and second rower.
"Simon has probably bought into some of the stereotypes about him and got wrapped up in the defensive side of things," says Elliott.
"He is very good with and without the ball. I remember how good he was a few years ago in attacking situations."
Meanwhile, Mannering says he is still learning about being a captain, but hopes the lessons have stopped for now.
After a promising start to his captaincy career in 2010 and 2011, last season was a massive jolt back to reality.
As the team slowly disintegrated, Mannering was often the public face of the demise.
Along with former coach Brian McClennan, Mannering had to face up week after week to fans and media to explain increasingly poor performances.
It's something that grinds you down, no matter how strong a personality you may have.
This season was supposed to be a fresh beginning - instead the Warriors produced the worst start in their history.
After the debacle in Cronulla (a crushing 28-4 loss) in late March, Mannering looked a man at the end of his tether but the spring in his step is back now.
"It was far from an ideal start to the season but you can't change what has happened now," says Mannering.
"We have had a few missed opportunities but need to learn from them."
Mannering has now led the Warriors on 73 occasions and is on track to break Steve Price's captaincy record at Mt Smart (91 games).
While yet to acquire Price's persuasive manner with referees, Mannering has improved in that crucial area and comes across as a more capable, confident leader.
"As a captain, the more you go through the better you become in your role," he says. "It does make it hard when things aren't going your way but it can't all be gravy.
"You learn more from the tough times than the good times but hopefully I've done enough learning for a while and can look forward to some brighter days."