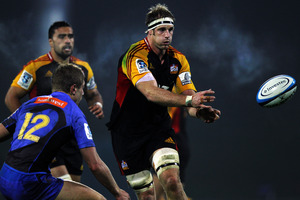 A dubious performance by the Chiefs has been followed by a definitive forecast about key players Gareth Anscombe and Tim Nanai-Williams who have been ruled out until after the June tests.
The champions just can't catch a break at the moment - they welcomed back Ben Afeaki and Tawera Kerr-Barlow on Friday night, only to have to confirmed that Anscombe has broken a bone in his foot and Nanai-Williams has been hospitalised by a stomach ulcer.
Injuries have been an unwelcome constant for them this year and have forced constant tinkering with selection. That lack of consistency in personnel has unquestionably been a factor behind their patchy and unconvincing form. Despite clinging on for a 22-21 win against the Force, there was little cohesive or impressive rugby from the Chiefs.
They played, much as they have in the past month, as a team that didn't have established combinations or innate understanding and faith in their own systems. There was enough depth of character on show to enable them to hold out when they were under pressure in the final quarter, but while they have scrapped and bumbled their way to the top of the New Zealand Conference, they have done so without ever looking the cohesive force of last year.
Other players to have been seriously affected by injury this year include Andrew Horrell, Robbie Robinson, Mo Schwalger, Fritz Lee, Richard Kahui, Patrick Osborne and Brendon Leonard.
The injury to Anscombe was particularly disruptive as it was only discovered late last week after the player had been named to start at first-five.
"It's probably a five or six week injury so it means he'll miss the next three weeks," said head coach Dave Rennie of Anscombe's injury. "We've got a bye in there as well and then that June window, all things going well, he'll be back in time to face the Hurricanes."