NZ Rugby fights to keep schoolboys keen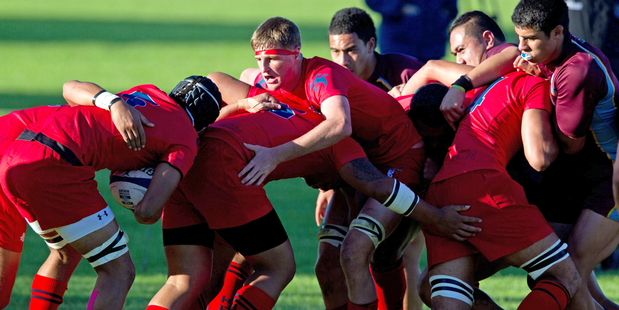 Rugby bosses want to ensure every schoolboy who turns up to play on Saturday gets at least half a game, even if top players end up on the bench.
Faced with static teenage participation at about 43,000, the New Zealand Rugby Union is focusing on retaining secondary school players.
After a nationwide survey of 1686 rugby-playing teenagers, the union's general manager of community rugby, Buck Anderson, has been meeting school heads and directors of sport.
Among the suggestions is a proposal to make it compulsory for all players to get a decent amount of game time each week - even if that means rotating two-thirds of a team at half time.
The former All Black and secondary school teacher said it might be difficult for coaches of large squads, but it was important to make rugby "as good as we can for all the kids all the time".
"We're giving very serious consideration to things like mandatory playing time for kids so they all get a reasonable amount of playing time each game," Anderson said.
The proposal has the backing of NZRU boss Steve Tew.
But it has been met with derision from former Counties-Manukau coaching director Phil Kingsley-Jones.
He said he supported juniors getting a run, but drew the line at introducing the concept in college and club competition.
"I'm not one for saying 'all hold hands and run across the line together'," he said.
"The reason that sport is played is for winners and there's always winners and losers.
"If there were no winners you would have a sissy country and we're going sissy enough now. I don't think we should make it any more sissy."
Kingsley-Jones said there was no magic button to stem the flow of boys from sport and it was a problem all codes were having.
Anderson said his plan would give individual players an incentive to train and keep engaged.
"The kids are saying one of the big turnoffs is going to training during the week, doing everything right and then not getting a decent crack at playing time on Saturday "
Anderson, who finished a nationwide roadshow presenting his findings in Pukekohe on Friday, said 23 per cent of current Year 9-13 schoolboy rugby players revealed they had considered giving up at some point during the season.
"The research told us the vast majority of teenagers really appreciate and enjoy rugby, but those teens who said they considered turning away from the game reckon those running rugby need to do more on a few fronts ...
"The challenge for us is to ensure the pathways for talented teenagers who want to aspire to higher levels of the game are working well, while also making sure that those whose focus is on having fun with their mates are also supported."