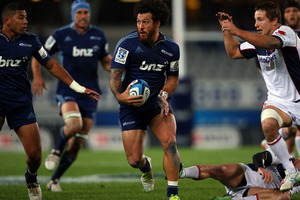 Blues 36
Rebels 32
A handful of Blues players took one big step towards the All Blacks tonight. The team, on the other hand, only flirted with a similarly impressive advancement.
For 30 minutes they were electric: clinical, creative and deadly. They scored five quick tries and threatened a rout. Possession came easily.
They owned the collisions, found the space and the passes stuck. The attacking magic was all there and it was like the good old days - the Blues carving up, playing without a care in the world.
Somehow they lost their way. They let the Rebels, who are one of the better attacking sides, back into the game by falling off tackles, giving up the gainline and believing they already had the game win. One particularly lame effort by skipper Ali Williams on Scott Higginbotham set the tone for that period of malaise: that period when they allowed the Rebels to get within four points.
The ease with which they gave up the ball and the dramas they had in doing anything useful with it, will form the bulk of their analysis this week. So too will they be looking at both their tackling and defensive structure, which lacks the precision and intensity of last week.
They will no doubt spend a bit of time looking at the opening half hour by way of building their confidence.
No is talking about mission accomplished, but the Blues showed in that period they are a side with multi-faceted elements in their repertoire.
One week they ran the Reds off their feet; the next they out-lasted the Stormers in a turgid dog fight and then last last night, they cut loose - giving one of the better attacking sides in the competition a masterclass in how to make deadly strikes.
There is variety to this crew - enough to believe they have in fact made the miracle recovery: enough to believe that when the monsoon rains inevitably come and the pressure and tension of the business end starts to bite, they won't be left exposed as one-trick, pass and run ponies.
What's just as apparent is that a few of their emerging and reborn stars - Steven Luatua, Francis Saili, Rene Ranger and Frank Halai - are-not the sort who are going to go missing after spending the first half of the season building their reputations.
Saili, after a difficult previous week where he fell off Jean de Villiers a couple of times, made amends with a bustling, lively and at times inspired performance. He seems to work best when the game is fast and open: limit his time to think and he works on instincts - all of which appeared finely honed.
Ranger was bullish, yet composed: adventurous yet aware. There were still the odd wild moments, a couple of loose passes, but he also provided a timely reminder that at full tilt, he remains a compelling sight. One charge in the first half saw him bundle the first two tacklers before lining up James O'Connor and sending him careering to the turf and, as it happened, the sidelines with a possible concussion.
With Saili and Ranger creating so much room and momentum, it was a joyous evening for Halai. He made his three scores look ridiculously simple, but they really weren't. His instincts, timing and judgement were spot on to be in the right place at the right time, and then there was the way he skipped, stepped and barged his way over when others wouldn't have even got close.
All three and Luatua, who was not as involved as he has been in recent weeks, are on course for a call-up to the All Blacks wider training squad when it is announced this week.
Blues 36 (F. Halai 3, F. Saili 2, R. Ranger tries; C. Noakes 2 cons; B. Kerr con) Rebels 32 (M. Inman 2, S. Higginbotham, L. Mitchell, J. Woodward tries; J. Woodward 2 cons, pen).