Scheme will try to stamp out abuse and bad behaviour on the sidelines.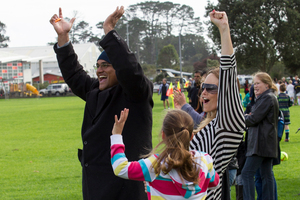 A tough new scheme of "three strikes" will be introduced at junior sports matches to try to stamp out abuse and violence on the sidelines.
The Auckland Rugby League has already spent about $40,000 on the initiative, to be tried at weekend games for players aged 6 to 12 across about 300 teams.
It is based on a successful Australian project and includes punitive measures that could lead to entire teams being suspended if their supporters step out of line, and parents can be banned from games if they offend three times.
Parents will also be drafted in to act as sideline enforcers.
"We are very aware there are some serious issues on match days that need to be addressed," said Pat Carthy, ARL's chief operating officer.
"There are consequences already in place to deal with any troublemakers but we feel we have to go that one step extra."
News of the three strikes pilot comes a week after the Herald on Sunday launched a far-reaching campaign to support good behaviour on the sidelines of sports fields and courts and to back the work being done in the winter sports codes to combat increasing numbers of abusive fans.
The paper has published a Sideline Code, encouraging supporters to cheer loud, cheer fair and cheer proud.
Carthy said he was impressed by the three strikes scheme being used in New South Wales.
"Each week we will have a coach or manager select parents as fair play monitors at games," Carthy explained.
"They will be wearing highly visible coloured vests and be there to tap anyone on the shoulder who is not conducting themselves in an appropriate manner.
"A three strikes rule for parents could see people suspended from all grounds and teams could be penalised for the behaviour of their supporters.
"Players could also have their registration cancelled. We will also encourage supporting referees and will discourage smoking and drinking at games."
Andy Flint, national development manager at the NZRL, welcomed the move, which will be in place for the start of next season.
"We are 100 per cent behind this initiative in terms of improving sideline behaviour," he said.
Flint also revealed the NZRL would next week roll out A-frame boards at sidelines in Northland, Otago and the mid-central North Island to promote good attitudes towards referees, coaches and players. "We aim to remind people about our code of conduct and to inform them about new rule changes," he added.