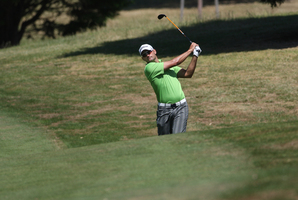 Mike Hendry will take a two-shot lead into the third round of the Muriwai Open after shooting a three-under 69 on a day when wind and a bitterly cold wind tested the resilience of the players.
His closest challenger is fellow professional Richard Lee, who copped some of the worst weather which forced a half-hour suspension during the morning.
The pair are arguably the most experienced in this Charles Tour event with Hendry in his first season in Japan and Lee a veteran of several seasons there but now based back in Auckland.
Hendry, who shot 65 in the balmy conditions on Thursday, was happier yesterday despite the higher score.
"It was better than yesterday from tee to green," he said. "I missed a short putt on 15 but I still putted quite well. It was tough trying to get a gauge on the direction and strength of the wind.
"Being in the lead helps and tomorrow it will be more about playing good golf and it will be hard for anyone to catch me."
Hendry looks forward to playing alongside Lee, whose humour he enjoys. They finished first and second in the first Muriwai Open in 2010.
Lee was far from pleased with his 69 that could have been so much better. "I just butchered a good round," he said after checking his card.
He was five under the card with four holes to play but he lost a ball off the tee on the 15th and dropped two shots. He birdied the 17th but finished with a bogey.
Playing with Lee, the national matchplay champion Kadin Neho from Whangarei shot a four-under 68 to be on 137, one shot behind Lee in third place.
The modest teenager had five birdies but chopped an approach over the 15th green and dropped a shot. To be seven-under after two rounds on a course which he was playing competitively was a measure of his talent.
Fourth are Tauranga professional Jared Pender and Manukau amateur Nick Voke. Jason Gulasekharam, the North Shore amateur who shot a first-round 66 to be second, slipped yesterday to a 76 and the defending champion Auckland professional Fraser Wilkin is six off the pace.
North Shore amateur Sai Ma topped the small women's field with a 71 yesterday as the overnight leader Jenna Hunter struggled in the testing conditions.
The top 60 and ties in the Ask Metro event will play 18 holes today and tomorrow.