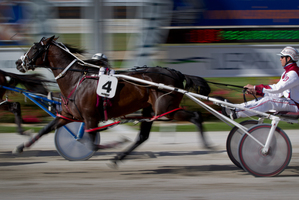 Allblack Stride may have a very Kiwi name but he faces a uniquely New South Wales hoodoo at Addington today.
The unbeaten juvenile pacer will be a hot favourite in the $225,000 PGG Wrightsons Sales Series Pace after bolting away with his New Zealand debut two weeks ago.
While he faces a tricky draw on the outside of the front line he has shown blazing gate speed and with aggressive driver Luke McCarthy in the sulky he will press forward and almost certainly lead early.
But while that could leave key rival Isaiah (R10, No 2) on his back stalking him, Allblack Stride (No 8) also has the weight of history against him.
It has been 24 years since a New South Wales-trained pacer has won a major race at Addington and that was the mighty Westburn Grant, who distanced Inky Lord in the New Zealand Derby.
Before that it was Steel Jaw in the 1983 New Zealand Cup, a performance which remains one of the strangest ever seen at Addington, make of that what you will.
Since the 1980s it has been lean pickings for the New South Wales stars as the industry there has lacked strength, but that has been turned around by the development of the Menangle track and the arrival of the all-conquering McCarthy clan.
Allblack Stride looks the idea type to dominate an average local juvenile crop and unless things get rough early he should win, with Cyclone Prince (No 11) and Zacharia (No 10) the best upset hopes after Iasiah.
While Allblack Stride will be short, his odds will seem positively generous compared with Adore Me (R8, No 8) in the $150,000 Fillies' Final.
She is freakish and should start an autumn treble of group one wins today, with Delightful Christian (No 7) a near certain quinella.
The great trotter Stig (R7, No 8) should back up from his Rowe Cup win with another victory but because of his recent soreness issues punters might want to avoid running all their multi bets through him.
His stablemate One Over Da Moon (R5, No 3) looks the best of his crop and trotted a national record over this distance two starts ago.
If he trots cleanly he should win but is a stroppy little horse and any manners' issues will bring Daenerys Targaryen (No 1) into play for Games Of Thrones fans.
On a day of short prices, Border Control (R4, No 4) will rival Adore Me as the hottest, being a last-start NZ Derby winner of 10 races in a one-win field. As crazy as that sounds the race is a standing start 2000m event, a relic from another age of harness racing which should be avoided by people who respect money.
The horse Border Control so narrowly downed in that Derby win, Bit Of A Legend (R6, No.7) meets some serious opposition but is aided by a small field so should still prevail.
All of which doesn't leave a lot of value for punters, especially thoroughbred followers looking for a respite for winter tracks but not interested in redhot favourites.
Their best bet might be Ellmer Hanover (R11, No 5) who meets some handy opposition but five of his six wins have come in standing-start races so he has an edge over his key rivals today.