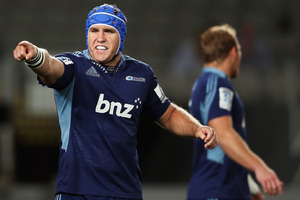 It took just 23 minutes for the arguments to re-emerge.
In that time Blues hooker Keven Mealamu made his first start this season, then stopped, because of a twinge in his calf after some early action last week against the Stormers.
A few days later there was some heartening news from the Blues that scans had not found any structural damage and Mealamu might even be on the bench for tonight's game with the Rebels.
That update was downgraded a few days later, though, as Mealamu complained of continued tightness in his leg.
Down south Highlanders hooker Andrew Hore has been going through his dramas as well. After his suspended start to the season, Hore returned in the third round and lasted eight minutes before he damaged his ribs.
His form since has been patchy.
Both senior men will be in Steve Hansen's opening All Black squad unless they suffer further injury mischief. The coach is committed to all those who are fit and went on last year's tour to Europe.
His third hooker will be Dane Coles but he is battling with a broken eye socket and is on very light duties until the time the squad assembles.
If we rubbed the slate clean and judged those who have been getting on with the business during the Super 15, who would get the call for the black No 2 jersey in the opening test against France? And what about a young promising backup?
Corey Flynn and Hika Elliot are the most experienced available hookers (Mahonri Schwalger does not qualify) who have got in some decent matchplay. Flynn has been consistent if a touch wayward sometimes in his lineout delivery, while Elliot has not always been as sharp or constructive as the Chiefs want.
Of the pair, Flynn still seems the more reliable and has the advantage of playing alongside many test teammates at the Crusaders.
Drill down for the next level.
Here we find James Parsons, Quentin MacDonald, Rhys Marshall, Codie Taylor, Ben Funnell, Liam Coltman, Brayden Mitchell and Ash Dixon while Motu Motu'u is injured.
Parsons has shown a grafting intelligence and big-match temperament in his work during Mealamu's absence with the Blues and MacDonald squared up last week when the call came.
Coltman, Taylor, Funnell and Marshall have all been age-group picks. They are interesting picks but none has been on the track consistently enough perhaps to get a gauge.
To these eyes, Taylor looks an uncommonly abrasive prospect with a hint of the Fitzpatrick "don't mess with me kind of attitude". But that comes from a fleeting look.
He cannot get past Flynn at the Crusaders, though, which suggests that the Crusaders and All Black props, Owen Franks and Wyatt Crockett, favour their older comrade.
Flynn might be best if needed against some of the gnarly French front rowers while the selectors and their advisers ponder the fitness and form of Mealamu, Hore and Coles.
That at last gives them time to think who might be the next-best if needed for the Four Nations Championship or for the end-of-year tour.
By then, though, Mealamu and Hore may have sorted out their frames and demanded they be the men who can make it for the next 2015 World Cup.