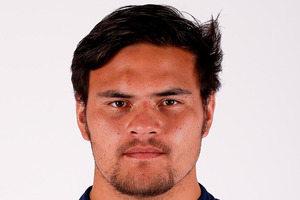 Character drives the soul of a rugby team. It delivers those who thrive on hard work.
On the evidence of some recent statistics, Blues tighthead prop Angus Ta'avao is fitting into that category strongly.
A baby in propping terms, he is a giant of a young man, standing 1.94m and weighing in at 125kg. Ta'avao has all the credentials of age-grade selections as captain of the national under 20 side.
Super 15 was a step up though, a big stride for a bloke who has just turned 23 and sat in behind Charlie Faumuina learning the nuances of tighthead scrummaging work.
Ta'avao had all the athleticism and courage necessary for this level of rugby, he just needed to get more time on the track.
He is getting it now after Faumuina fell out of the squad because of a torn calf muscle.
After one start and five brief appearances last season, Ta'avao has played the last five games for the Blues.
He's had a few issues as any young prop would but in each game, the improvement has been noticeable. A total of 400 minutes on the field compared to his previous training field arena, has piled on his knowledge.
"In the past when I have played Super rugby it has been five or 10 minutes here or there. Being able to start each week and taste this level on a regular basis is a whole new start," Ta'avao said.
His next task is to square off against the Rebels tonight at Eden Park as the Blues look to continue the strong run they are making in the middle of the competition.
It is the next step for Ta'avao once coach John Kirwan and assistant Mick Byrne told him if he knuckled down, he was tighthead for the rest of the season.
"It was a big challenge and how I responded was whether I would take up that role.
"For preparation during the week it is much easier because you are working to a system all the time and even on game day you warm up and then go out and play 80 minutes," he said.
"That has been a huge help. You get a better feeling for the game."
Others help too like senior hooker Keven Mealamu even though he is on the injured list. Mealamu watches at practice and gives tips to all the front row from his library of rugby knowledge.
Ta'avao is very tall for a prop, somewhere in the lofty heights Carl Hayman was. It helps lifting in the lineouts but there can be a few squeaky scrum moments if he does not get his angles, stance and body in the right alignment.
"Technique is the big thing. When I get it right it's good and when it goes the other way you can see," he said.
"Shorter guys when they are in trouble can squeeze out a bit more but when you have big levers and hinges it is hard to go anywhere. It's a challenge but it's my position and part of the job."
Ta'avao tried playing lock and No 8 but as a chubby kid he was usually sent to the front row.
He knew he would end up in the front row at this level of rugby, while he retains his skills as a ball handling player who does not fear the open spaces on the park.
This is Ta'avao's apprenticeship though, time when the Blues need his scrummaging to develop. The signs are strong. Time on the track, talking to as many former players as he can and learning from those who are still plying their craft.
"It is about picking up the little things and getting into good habits and that takes time," he said. "But I am young in terms of being a prop."
Ta'avao is also getting into good habits off the track as he studies for a commerce degree at Auckland University. He wants to finish that but progress has slowed as his Super rugby work has increased.
"I'll chip away at one or two papers a semester and I am just happy that I started to get a bit of it done earlier in my career. I always wanted a degree, business interested me and now I am thinking of picking up a property degree too."
When you talk to Ta'avao he seems a very level-headed man, someone who has grabbed every chance after some early struggles, then a boarding education at Dilworth.
He learned the value of teamwork there and was encouraged to show individual pride in his achievements. They are the sort of ideals floating around the Blues this year, self-sacrifice and hard work.
Those results are coming and so is Ta'avao's propping development.
"This year, people probably thought we were too young and inexperienced. But the coaches have created a really tight group and encouraged us. It's been exciting, we've had a good start but there is a whole heap to go."
Blues v Rebels
Eden Park, 7.35 tonight
Blues: Charles Piutau, Frank Halai, Rene Ranger, Francis Saili, George Moala, Chris Noakes, Piri Weepu, Peter Saili, Brendon O'Connor, Steven Luatua, Ali Williams (c), Anthony Boric, Angus Ta'avao, Quentin MacDonald, Tim Perry
Reserves: Gafatasi Su'a, Ofa Tu'ungafasi, Ronald Raaymakers, Luke Braid, Jamison Gibson-Park, Baden Kerr, Lolagi Visinia
Rebels: Jason Woodward, Tom English, Mitch Inman, Lachie Mitchell, Cooper Vuna, James O'Connor, Nick Phipps, Scott Higginbotham (c), Scott Fuglistaller, Jarrod Saffy, Cadeyrn Neville, Hugh Pyle, Laurie Weeks, Shota Horie, Nic Henderson
Reserves: Ged Robinson, Paul Alo-Emile, Luke Jones, Gareth Delve, Nic Stirzaker, Angus Roberts, Bryce Hegarty