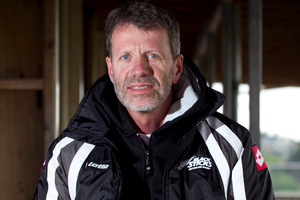 It didn't happen on Colin Batch's watch, but he knows the recent history of his New Zealand team against Korea.
On July 30, the opening day of the London Olympic competition, the Black Sticks were fancied to kick off their programme on the right note against Korea. Optimism was high.
They lost 2-0. From there, the campaign never got off the ground, and they finished ninth.
The two countries start a six-test series at Rangitoto College on Tuesday as part of the build-up for what is effectively the World League semifinal in Rotterdam next month.
They've met once since the Olympics, New Zealand winning 3-0 at the Azlan Shah tournament in Ipoh, Malaysia, in March.
Former Australian international Batch replaced Shane McLeod as national coach in November and acknowledged his squad remains "a work in progress".
They were seventh at the Champions Trophy in Melbourne in December, split two internationals in Malaysia and were fourth at the Azlan Shah.
That team had just three players aged over 23. This squad of 23 is bolstered by five players returning from the professional leagues in Europe, including 292-cap veteran Phil Burrows, although it lacks classy young attackers Nick Wilson and Simon Child who, with experienced international Steven Edwards, are contracted to the Rotterdam club.
Batch, 55, is a pragmatist. He'll cast his eye over his entire squad during the Korean series with the World League 3 in mind. He knows not everything will go New Zealand's way, but there's a bigger picture in play.
"I'll be playing players to find out if they're capable of playing at World League 3, and when you do that you don't always get the result you want," he said. "We're not going to play our best team all the time.
"I know we're not going to win the series 6-0. Korea are a very good side and if we win two or three games, that would be good progress."
Batch knows New Zealand have good young talent coming through, the latest uncapped North Harbour player George Muir, a Herald Future Stars of Sport winner last month. His job is to sift out the best, and blend them with the experienced core of players he has to produce a highly competitive squad in Rotterdam.
Korea, at No 8 ranked two spots behind New Zealand, arrive with four internationals against world No 2 Australia in Perth this week as build-up, losing the rubber 2-1 with one drawn.
Batch rates the Koreans a strong defensive outfit, good on the counter-attack and blessed with some real pace coming forward.
Because of the logistical difficulties of attracting the better European teams to New Zealand, the Koreans are welcome and regular visitors. They have played here 11 times since February 2011, the Black Sticks winning five and losing four.
Six straight tests against the same opponents isn't ideal, but among the upsides is the chance to experiment with different styles, knowing what type of tactical approach you're likely to confront.
Batch wants to develop a structure that is suited to, and brings out the best in, his players.
"You can spend a lot of time analysing the opposition, or get on and improve your own game ...
"The ideal time to do it is in a series like that. You don't want to play the same way all the time because you'll retard your learning capability, and I want a very flexible team."