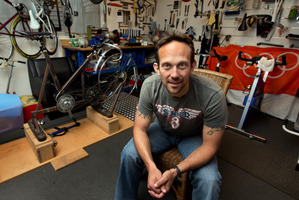 National sprint cycling coach Justin Grace shocked the sports community with his mystifying resignation this week. Having built a world class squad from scratch, Grace has quit three years out from the Olympics in Brazil. Grace takes a few questions from the Herald.
What about the sacrifices mentioned in the resignation announcement?
The amount of time away from home is difficult. I've done a lot of work on it, speaking to people through the coach accelerator programme and hiring people to help me. It is really difficult for the family to transition ... they've got their routines and all of a sudden you come home. I've learned to stay in the background for the first couple of days and also about the need to compartmentalise things so you can be present.
Cadence and Madison - your daughters' names are cycling terms ...
My wife didn't even know at the time but she really liked the names. The girls are fine with it and often have a chuckle. I've got their names tattooed around my arm.
Cycling has been your life - where did it start?
My dad (Murray) was a bike racer but when I was young, all I knew about that was through two photos of him on a bike in an album. I later found out my grandfather was an Auckland selector. Growing up in Pukekohe in the 1970s, it was so easy to be an 11-year-old kid who could go for a ride. My first race was a handicap event - I started first, finished last and I loved it.
New Zealand didn't have much of a track sprint history ...
We had a big endurance history but just didn't understand sprint. Once the Berlin Wall came down East German and Russian coaches sold training programmes when I was competing. We foolishly set about doing them without realising they were probably year eight of a hefty drug fuelled programme. It took a couple of years to click - a protein shake and banana just wasn't doing it. The volumes of training just weren't possible - they weren't human. But we had fun trying and learned a lot.
Career highlight?
My first Commonwealth Games in Manchester (2002) - we had a really good group of guys who were all pretty green but determined. We finished fourth in the team sprint which was a fantastic result for us. It was a pretty special time for me.
Low point?
I wasn't very well early in my career - I had ulcerative colitis, which is an inflammation of the bowel. I competed at world champs but it was very difficult - I got very down wondering how far I could have got but for that. I had surgery in 1995 to remove the large intestine and raced the second half of my career with the disadvantage of having trouble absorbing enough nutrition. I had to eat small amounts really frequently - around 8500 calories per day. It was difficult even finding time when you are training two to six hours a day.
What has given you an edge?
As a rider I had the opportunity to experience a lot of programmes. As a New Zealander, other countries take you under their wing when they see you are in need and not quite as good as them. I travelled the world with the Canadians, Australians, Germans, British and the French at times. I got a taste of lots of different ideas. I was always really bad about keeping training diaries, but good at keeping notes about what I thought should or shouldn't work. The physical stuff isn't relevant now with the advances in sports science, but some of the other theories are. I didn't feel I achieved as much as I could as a rider. Has that helped drive me? Perhaps. I have always loved to help people.