Sprint maestro cites lack of respect from Bike NZ as main reason for departure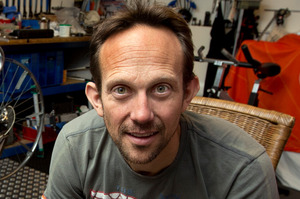 Departed national cycling sprint coach Justin Grace may coach another country.
Family considerations were emphasised when it was revealed that Grace had quit this week, even though his superb sprint programme was designed for an Olympic medal haul - including gold - in 2016. But in a Herald interview at his home in Auckland's eastern suburbs, Grace said a lack of respect from Bike NZ meant the personal sacrifices were no longer worth it.
New Zealand was a sprint nobody when Grace, a former New Zealand sprinter, took up the cudgels five years ago. New Zealand's remarkable rise to a place around the world top four began with the spotting and development of Auckland teenagers Sam Webster and Ethan Mitchell.
It has led to the building of a superb squad which has won world junior, senior, World Cup and Olympic medals. Grace and the riders are so close that his garage is the training centre and they have keys to his home.
Grace avoided specifics over his disappointment with BNZ but said: "Since the Olympics I've had numerous offers from other federations which I've turned down, including on the same day I resigned.
"In the right environment with a nation that respects me as a coach then yes, I would take it. I've already told the riders that. At the moment, I don't have that support or respect from Bike NZ.
"I'm not belittling the endurance riders, but five sprinters can deliver six Olympic medals while an investment of at least 10 endurance riders has a total outcome of four. So when I hear there is no budget for a sprint development programme or outside help ...
"I was shocked the decision-makers didn't even try. All the fun and success and learning is outweighed by the fact I can't work somewhere where I don't feel respected.
"The job is not finished and those guys are very capable of being Olympic champions in 2016. I never imagined I wouldn't be part of that. I've shed a few tears since Monday. Those riders are like sons to me and big brothers to our daughters. Regardless, they will ask my advice now and then and we will always remain good friends.
"What we had was unique, not just in New Zealand but throughout the world.
"But I'm not prepared to lead a programme that has a different strategic plan to what I think is needed ... some people may say I'm being foolish but I have to come home and sleep at night. I would definitely come back, but not in the current situation."
BNZ is leaning on a sports science approach, and high performance director Mark Elliott said velodromes in particular were highly controlled environments which supported that approach.
Grace joins other coaches Tim Carswell, Andy Reid and Ken Cools in leaving for various reasons, while endurance specialist Dayle Cheatley is now head coach. There has only been one replacement so far - via an internal promotion of Ryan Hollows for Cools in BMX - while BNZ has five sports scientists to analyse data and set programmes. Elliott said there was funding pressure forcing the women's programme to be slashed. An overseas coach would replace Grace, with no New Zealander remotely in his league.