Silver ferns coach concerned by slow starts in league for Van Dyk and her back-up hot shot Latu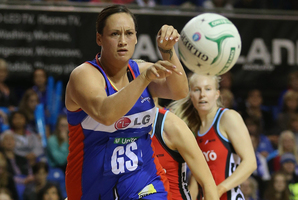 New Zealand's top shooters are under pressure to start performing after a quiet start to the transtasman league.
The mixed form of the Magic's Irene van Dyk and her understudy in the national team, Cathrine Latu, has led to concerns over the Silver Ferns' shooting stocks.
The pair were benched in the final quarter of their respective matches last weekend - for Latu it was the second week in a row she had been dragged at three-quarter time following passive performances for her struggling Mystics side.
With shooting stats in the mid-90s, Latu and van Dyk still top the league in terms of accuracy, but it is their volume that is raising alarm bells, with both players well down on their usual scoring rates, indicating they are struggling to get their hands on the ball.
Van Dyk has been particularly quiet. She is seventh in the list of goals tallied, having put up 150 fewer shots than league leader Jhaniele Fowler, of the Steel, over the first seven rounds.
Latu is fourth on the list, but still well back from the top three scorers this season of Fowler, Romelda Aiken (Firebirds) and Caitlin Bassett (Fever).
Silver Ferns coach Waimarama Taumaunu acknowledged the shooting volume of the pair is a concern for her.
"In Irene's case I do think it was a one-off, but with Cathrine the volume has been slightly more of an on-going issue with her, but I think we're settling a couple of feeding lines in front of shooters and that connection takes some time to get right," said Taumaunu.
The lacklustre form of van Dyk and Latu has heightened concerns over the number of shooting imports playing for New Zealand franchises. Along with the Steel's Jamaican import, the Tactix key scoring weapon is English shooter Jo Harten, while Australian international Caitlin Thwaites takes on the bulk of the shooting duties at the Pulse, alongside former Silver Fern Donna Wilkins, who has ruled herself out of national selection for the past 11 seasons.
With the Kiwi franchises reliant on imports to fill key shooting roles, there are limited development opportunities for young local players, which is crippling New Zealand's depth in an area of court they have traditionally struggled.
Taumaunu said while she would like to see more young goal shooters developed, the presence of strong international shooters in the competition has helped a couple of young goal attacks to build their game.
"If you look at someone like [Tactix shooter] Sophia Fenwick for instance, she has been given great opportunity to build her confidence and grow her game with the likes of Jo Harten behind her, she has shown huge improvement this season," said Taumaunu.
Although she was forced to take the rare step of benching van Dyk last week, Magic coach Noeline Taurua is backing her star shooter to respond strongly against the Central Pulse on Monday night, following last week's poor showing, in which she was kept goalless in the third quarter of their 12-goal loss to the Adelaide Thunderbirds.
Round 8
ANZ Championship
Today: 4.20pm Canterbury Tactix v Queensland Firebirds, Christchurch.
Tomorrow: 2.10pm NSW Swifts v Melbourne Vixens, Sydney; 4.10pm West Coast Fever v Adelaide Thunderbirds, Perth; 7.20pm Northern Mystics v Southern Steel, Auckland.
Monday: 7.40pm Waikato-Bay of Plenty Magic v Central Pulse, Hamilton.