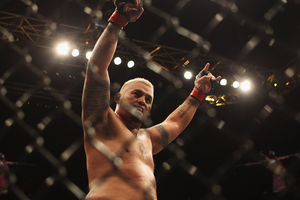 Mixed Martial Arts fighter Mark Hunt has been kept grounded in New Zealand over visa issues as he tries to make his way to the US ahead of his blockbuster heavyweight bout against Junior dos Santos at UFC 160 in Las Vegas on May 25.
The 39-year-old is one of two New Zealanders on the card alongside light heavyweight James Te Huna, who is down to meet Glover Teixeira, and victory over the No 2-ranked dos Santos could see Hunt earn a world title fight.
Hunt was due to fly to the US on Monday but was held up at the airport and still hasn't been able to depart after he was denied again last night. (thur)
The problem stems from Hunt's existing US visa being on his old passport and it hasn't been transferred to his new one.
He is based in Sydney so his old passport has been sent via urgent courier to Auckland in a bid to marry up the details so Hunt can get to Las Vegas and acclimatise for the bout.
While his old passport was in transit, he tried to apply for another visa but was refused due to a 2002 arrest in the US following an altercation at a night club when he was maced by an undercover police officer.
Hunt was eventually released without charge but it's understood that arrest is a spanner in the works.
Hunt has travelled to the USA numerous times in the past decade on his existing visa but because Hunt's flights have been scheduled for the evening, nobody in the US has been available to help due to the time difference.
The UFC are treating the situation seriously and it's believed president Dana White is personally helping to clear up the situation.
Hunt's long-time trainer Steve Oliver said they expected to have the drama sorted by this evening.
"We got to the gate yesterday but got denied at the gate," he said. "It's getting silly. Immigration's saying it's alright. We get there and we are getting spat out."
Hunt is currently on a four-fight win streak in the UFC and is confident it will all be ironed out and the bout will go ahead.
"It hasn't been too bad," Oliver said in regards to the team's stress levels. "But we need to get over there and it puts a bit of a hiccup in our training."
Hunt has documented his struggles on his verified Twitter account during the week but could finally be on a plane tonight.
- APNZ