Rising star of NZ soccer signs to play in the German Bundesliga, despite Rufer's misgivings.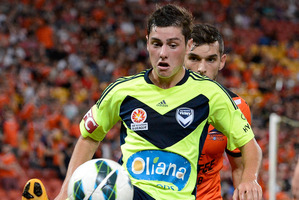 It is appropriate Marco Rojas has signed with VfB Stuttgart because he will be close to the home of car manufacturer Mercedes Benz.
When the All Whites winger first trialled with the Wellington Phoenix in 2009, he was given a Mercedes Benz to drive around Wellington.
It was part of his prize as the recipient of the Yellow Fever scholarship - a 1978 Mercedes 250 in bright yellow, with "Phoenix 'til I die" and an image of retro Ricki Herbert emblazoned on the side, which members of the fans group picked up off Trade Me.
Rojas might now be able to afford an upgrade.
It was yesterday that the 21-year-old had signed a four-year deal with the German Bundesliga club and, while money was not mentioned, a starting salary for players in the Bundesliga is about 300,000 euros ($466,000).
The move, however, is about a lot more than just money. Rojas has been touted as a player of great potential and that was realised this season when he won the Johnny Warren Medal as the A-League's best player.
His contract was up with Melbourne Victory and he had mapped out a career plan that would take him to Europe. He was linked with a handful of clubs, including Werder Bremen, Juventus, Liverpool and Salzburg before agreeing terms with Stuttgart.
"Dad and I spoke to the responsible parties at VfB and they gave us the impression that they really wanted me here," he said in a statement released by Stuttgart. "It's great for a player when a club shows just how much they want you.
"It'll certainly be a big challenge."
It's one New Zealand's finest player, Wynton Rufer, isn't sure he's ready for.
Rufer played for several seasons in the Bundesliga with Werder Bremen, famously scoring both goals when they won the 1992 Cup Winners' Cup, and played a role in Rojas' development.
Rufer spoke with Stuttgart's head of sports, Fredi Bobic, and told him Rojas was a good dribbler but mentally not tough enough for the Bundesliga.
"Marco is not ready for the Bundesliga," Rufer is quoted as telling German newspaper Schwarzwaelder Bote. "The 'hardness' of the game is too much for him and it would be better for Marco to stay another year in Melbourne."
Rojas, however, has often proved people wrong. He was told by a coach at New Zealand Football when he was a young hopeful that he would never make it as a professional - striker Chris Wood was delivered similar news - and he also trialled with Werder Bremen, Hannover 96 and Borussia Monchengladbach in 2008 but failed to win a contract.
It took the efforts of his Hamilton Wanderers club and then the Yellow Fever to kickstart his career.
The fan club established a scholarship, whereby the recipient received $5000, the Mercedes Benz and a week's training with the Phoenix, but the Yellow Fever had few expectations a player would actually earn a contract out of it. He was still a student at Hamilton's Fraser High School when he signed and he then made his A-League debut as a 17-year-old.
"Without the scholarship he wouldn't have been signed by the Phoenix," Yellow Fever spokesman Guy Smith says. "The reality is they weren't, at that stage, paying any attention to the ASB Premiership so he wouldn't have had the opportunity to get into the A-League. Would he have found another way? Quite possibly. He had a career plan already that just changed a little bit when we came along."
Rojas was a fringe player during his first year with Wellington but got his big break when the influential Paul Ifill was injured. His impact was significant.
"From day one you could see he had plenty of ability," Ifill says, "but I wondered if he was going to grow. I thought his size would be the main thing stopping him. He was very slight, pretty weak. As time went by, you could see he could ride a tackle and even when he did take a knock he was pretty quick to dust himself down. I think it took him a little while to get used to the A-League and the physicality of it. I don't think he quite got there with us but after a season or two with the Victory you can see now he's grown into some player.
"I don't think he's ready to go and make an impact at Stuttgart quite yet. He will again have to get used to a new league, new style ... but I think the style of the league will suit him. It's the right move and, at 21, he's ready in terms of age and ability.
"He signed for four years so they obviously see him as a long-term prospect."
There have been suggestions Rojas has the talent to supersede Rufer and become this country's greatest footballer. That is some statement but it's not unrealistic to suggest he will be the best attacking player since Rufer. He has plenty of time - Rufer didn't play in the Bundesliga until he was 27.
Appropriately, Stuttgart play at the 60,000-seat Mercedes Benz Arena. It was meant to be.
- APNZ