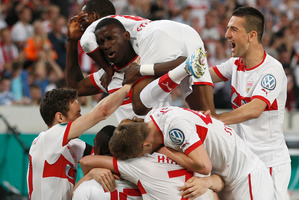 For an idea about the level of competition Marco Rojas will face with VfB Stuttgart, just take a look at Wembley Stadium on May 26.
It may be an English institution, but Wembley Way will be flooded with Germans heading to watch the two best teams in Europe do battle in the Champions League final.
Bayern Munich - who demolished previous kings Barcelona in the semifinals and will next season employ Barca's architect, Pep Guardiola - are the new European super club, while Borussia Dortmund taught a lesson to nine-time European champions Real Madrid to set a date with their domestic foes.
Rojas will face the two titans next season with a team which bested both as recently as 2007. And to give a clue as to the parochial passion Rojas will enjoy from the home fans, a quarter of a million people turned out to celebrate that Bundesliga crown, the club's fifth title.
Stuttgart have been unable to replicate that success in recent years, managing an average of sixth across five campaigns before stumbling to finish mid-table this season, but their loyal support has not waned.
Their home ground is the 60,000-seat Mercedez-Benz Arena, while their average attendance of 50,000 this season makes them the fifth-best supported team in the country.
As the name suggests, VfB Stuttgart are based near the Mercedes-Benz factory and museum, while Porsche and Maybach are also produced in a region regarded as the starting point of the world's automotive industry.
Rojas may need a decent ride to get around, with the Stuttgart metropolitan region the fourth-biggest in Germany.
Since the German football league was established in 1963, Stuttgart have missed only two seasons in the top tier, meaning Rojas will spend his four-year contract playing with and against Germany's best - players who make up the second-ranked nation in the world and one of the favourites for next year's World Cup.
That German side is reflective of the Bundesliga as a whole - a fast and technical league in which Rojas' speed and skill will more than make up for his slight frame.
It is just hoped Rojas has been working on his defensive duties. He may need them when Arjen Robben and Franck Ribery are switching flanks the first time he comes up against Bayern.
- APNZ