North Harbour professional less than happy with his new driver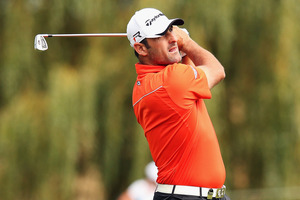 Putting proved the key for North Harbour professional Mike Hendry as he shot seven-under 65 yesterday to lead the $40,000 Muriwai Open by one shot after the first round.
Hendry, with a world ranking of 151, won this Charles Tour tournament in 2010 and went on to win the rich Indonesian Open on the OneAsia tour a few weeks later. He will be back on the Japanese Tour in a couple of weeks.
On a course in remarkably good condition considering torrential rain in the previous 24 hours, Hendry, who started on the 10th, had nine birdies and two bogeys but reckoned his putting saved him after dropping shots on two of his first four holes.
"I holed a good one on the 15th and basically got everything in the hole from then on," he said. "I was rubbish off the tee, just trying to hit the fairways."
Hendry is not happy with his new driver but given his form with the putter his watchword will be: "If you can't win well, win ugly."
As the shadows lengthened, 19-year-old amateur Jason Gulasekharam signed for a 66 to take second place on his own ahead of a group on 67.
The North Shore Club member, a Kiwi born in Australia of Sri Lankan parentage, was five under after nine holes and picked up another birdie on the second half.
"I hit it close on the first nine and holed the putts," he said. "I was a bit nervous heading into the second half and didn't hole as many putts."
He is a first-year university student at AUT and a member of the North Harbour representative team. The group a shot further back includes former Japan Tour pro Richard Lee and 20-year-old Luke Toomey from Hamilton's Lochiel Golf Club. Highlight of his 67 was an eagle on the 450m 14th where he hit a driver and five-iron and sank a 5m putt.
Toomey heads the national amateur order of merit and was recently named in the national academy. He hit the headlines when he shot 11-under 61 at Manawatu to head the qualifiers for the national championship by 11 shots last month.
The small women's field is led by the South African-born North Shore professional Jenna Hunter, who had a four-under 68. The full field of 144 will play another 18 holes today with the top 60 and ties playing 18 holes tomorrow and Sunday.