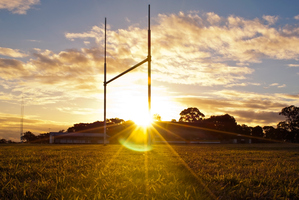 NRL clubs are continually searching for the latest innovation to give them the edge but I really think they also need to look back to understand what brings success.
The level of professionalism and discipline and the work clubs do in education and welfare is superb. They have nailed it. But I also think clubs need to borrow more from history.
It's too easy for players today and it's getting easier and easier every year - just like it is for today's kids in wider society.
They are often identified early and put into the development pathway but they don't have to think for themselves. They don't learn for themselves. Everything is laid on for them. There's no doubt a lot of these youngsters are incredibly talented but there are other ingredients to success.
The problem is too often players become first-graders too early and can't handle it. They become robotic in the way they play because they are asked to be robots.
It doesn't prepare them for how hard the NRL is and you can't play NRL without having experienced the grind.
I think this is a reason why some players are struggling to cope with NRL now. The pressures that come with professionalism and the money involved are hard to deal with.
I know some might roll their eyes when I talk about "my day" but players didn't make it to first-grade until they were about 25. They had played local and provincial league against men and it prepared and conditioned them for what it was like at the top level. You would get bashed around and learn how to take the knocks and you were employed so you knew what it meant to make it.
I found it amusing to discover recently some players didn't know what to do when they travelled overseas by themselves, they didn't know how to fill out the travel documents or what to do with their passports, because they had never had to do it before. Clubs do it all for them, and that extends to things like sorting out their boots and food.
Players in my era could follow a structure and a game plan but also play what was in front of them. They could make decisions for themselves.
The under-20s competition is great but it's not necessarily the best preparation for the NRL. I'm heartened to see most clubs recognise this now and are putting more emphasis on the NSW Cup, pulling some of their best under-20s players out of the Holden Cup and playing them in reserve grade to prepare them better for the NRL.
There's no easy way in the life of a footballer. If you want to be the best in this game, you have to do the hard work and play with men. If you don't, then it's just sugar coating reality and that doesn't help anyone.