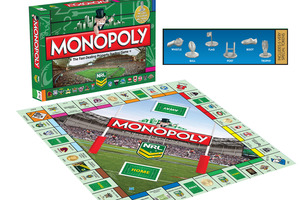 1. Locke down
There is widespread relief around Warriors HQ that the back injury to fullback Kevin Locke is not as serious as first feared and he will be out for only one or two weeks. He looked in serious trouble when he slumped to the ground in agony turning for the ball with no one around him. "I have had a similar thing happen," coach Matt Elliott explained. "I pinched a nerve in my ankle and I was screaming on the ground thinking I had broken my ankle. I walked into the pub later that night." Locke couldn't do that. He was in hospital.
2. Owning up
Everyone else can see it and it's refreshing to hear Benji Marshall can as well. The Wests Tigers five-eighth has been in patchy form over the past couple of seasons and agrees his poor form has been a major factor in the Tigers' disappointing start to the season. "Even before I was injured I wasn't sure with where I was at with my form," said Marshall. "My job is to provide attack and direction to the team and that hasn't really happened this year. I don't really know what to put it down to."
3. Game of the week
There's always been a fair degree of hostility between Manly (4th) and the Roosters (3rd) and it's likely to be in evidence again on Monday when the two heavyweights meet at Brookvale Oval. It will also see Manly centre Steve Matai, who returns from suspension, lining up against former Mt Albert Grammar teammate Sonny Bill Williams. Warriors five-eighth Thomas Leuluai was also a member of that MAGs side from 2000 and 2001 and Sam McKendry and Matthew Ridge are also old boys.
4. Good Price
Speaking of MAGs, former Warriors captain Steve Price is coaching the school's first team this season and his side kicked off the revamped college rugby league premier first XIII competition, now known as the Warriors Cup, against fellow heavyweights St Paul's College. St Paul's, who won last year's title, defeated MAGs 18-6 in wet conditions but it wouldn't surprise to see the two sides duking it out for the honours later in the year in the 18-team competition.
5. No To-Morrow
It's widely acknowledged in broadcasting circles that the mic is always live. It's probably something ABC radio rugby league commentator David Morrow, who has been calling games since 1980, should have followed on Monday night. Reports across the Tasman suggest Morrow was telling a joke, with alleged racist remarks, before Monday night's match Sea Eagles-Dragons not realising he had gone to air earlier than expected. He's been suspended pending an investigation and last night released a very contrite, very long apology explaining the "misinterpretation".
6. NRL monopoly
The Warriors will be chuffed to learn they occupy the space usually occupied by Regent St on the NRL's version of Monopoly. The NRL have released their own take on Monopoly with all 16 clubs included with the plum sites of Park Lane and Mayfair taken by the grand finalists and NRL premiers. Manly, who were known as the Silvertails in the 1970s because of their perceived upper status, might be a little miffed having been handed the unfashionable Northumberland Ave.