Cameron McMillan looks at the forwards who are playing above their Fantasy value.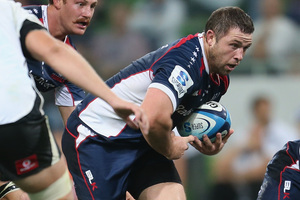 In a post-GFC world most of us are now used to working to a budget. If you're using the same philosophy for your Fantasy team then you might want to consider the following forwards.
Bargain back rowers
• Philip van der Walt (Cheetahs)$3,870,000 - 172 points, 10 games
• Pieter Labuschagne (Cheetahs)$4,010,000 - 203 points, 10 games
The Cheetahs squad were obviously undervalued at the start of the season with seven of their players making this list. Van der Walt and Labuschagne somehow put in strong games each week without devaluing the other - there are only so many tackles to go around after all. The duo are the leading back rowers in Fantasy rugby and are still both priced cheaper than the other 18 players in the top 20.
• Wimpie van Der Walt(Southern Kings)$4,350,000 - 169 points, 10 games
The only other player in the top 10 priced below $4.5 million is van Der Walt who has the fourth most points, just behind Sam Cane of the Chiefs in third.
The only worry is if his team continue to leak 70 points each week then he'll suffer. The update side is that he'll have more chances to increase his tackle count if his side are defending all the time.
Most expensive backrower
• George Whitelock (Crusaders)$6,710,000 140 points, 10 games
Bargain second rowers
• Francois Uys (Cheetahs)$3,280,000 119 points, 10 games
• Lodewyk de Jager (Cheetahs)$3,210,000 109 points, 10 games
Yet again more Cheetahs. Hugh Pyle of the Rebels has a better points-per-game average but Uys and de Jager still remain a better value sitting in the low $3 million price range. Compare that with the most expensive duo, the All Black pairing Brodie Retallick and Luke Romano who are priced at almost $2 million more and getting similar output.
Most expensive locks
• Brodie Retallick (Chiefs)$5,280,000 - 126 points, 10 games
• Luke Romano (Crusaders)$5,240,000 - 105 points, 8 games
Bargain front rowers
• Arno Botha (Bulls)$4,090,000 - 146 points, 9 games
Botha is the seventh most expensive so not exactly bargain, but with 146 points to his name he's still great value. 70 points in his last four games have seen him leap to the top spot.
• Ged Robinson (Rebels)$3,430,000 - 124 points, 10 games
Robinson is the third top points scorer for all front rowers and the 49th ranked in price. 30 points in his opening game helped but recent strong showings prove that wasn't a fluke. Don't let the Rebels jersey put you off.
• Tom McCartney (Blues)$2,250,000 - 97 points, 7 games
The Blues prop has an impressive output per game and is half the price of James Slipper. It's not every week he'll put in a 26-point performance like he did against the Hurricanes last month but worth it for that price.
Most expensive prop
• James Slipper (Reds)$4,460,000 - 135 points, 11 games