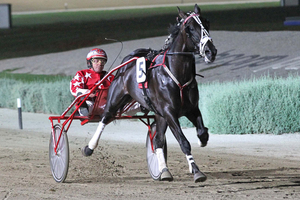 Sam Smolenski is not going to let a small fact like a 40-length hiding dent his confidence going into tonight's $20,000 Cambridge Trotting Stakes.
And that suggests Aussie superstar Blitzthemcalder is going to have to work hard to justify his redhot favouritism for the 2200m event at Cambridge tonight.
The pair split the two 3-year-old trotting features at Alexandra Park in recent weeks, both winning by huge margins.
While Blitzthemcalder was unlucky when Royal Aspirations led and gapped him two weeks ago, the big Aussie was sensational while Royal Aspirations was terrible in the Trotting Derby last Friday.
They engaged in a frenetic early speed duel, which Blitzthemcalder won before going on to smash the national 3-year-old mark by four seconds in one of the great performances by a young trotter in New Zealand.
Royal Aspirations lost the race when he lost that speed duel, but driver Smolenski says the margin was exaggerated by the fact his colt choked down after pulling too hard.
"I think people should just forget about last Friday's run because he pulled way too hard," said Smolenski.
"This week we are taking the blinds off, which should calm him down, and we are going to make Blitzthemcalder chase us.
"I will be going out to lead and definitely not handing up and if he is good enough to sit parked outside us and win then good luck to him.
"He is a very good horse and impressed me last week but my fella is pretty good, too."
Royal Aspirations is returning to the track where he, too, smashed a national record in last season's Harness Jewels.
While Blitzthemcalder is clearly something special, Cambridge always favours leaders so the Victorian will need to bring his A-game to repeat last Friday's win.
Still, he should be more comfortable left-handed and the small field will give him time to settle and he will have few traffic concerns. The obvious trifecta and upset chance is Prime Power on his home track.
He should have the gate speed, and now experience, to stay handy and probably trail so it is hard to see him missing a place if he trots all the way.
Tonight's meeting boasts stronger-then-normal Thursday night fields, with Thomas McBride (R3), Freespin and Karaka Jack (R6), and Rare Opportunity (R8) all going further than the grade in which they race tonight.