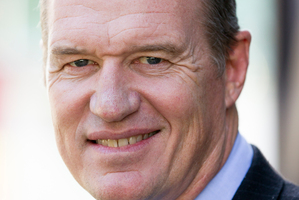 Some of New Zealand's greatest sporting heroes were honoured in a special investiture ceremony today.
Sir John Kirwan
Rugby legend Sir John Kirwan has received his knighthood for services to mental health and rugby.
The Blues coach today became a Knight Companion of the New Zealand Order of Merit at a ceremony at Government House in Auckland this afternoon.
He said he was blessed with the ability to play great rugby and honoured he was able to pass on his skills.
"Rugby has given me so much, I should be giving back to rugby.
"This is a game that has given me everything. As a professional coach I am getting paid to do what I love, which is incredible. I don't feel I have have given anything to rugby, I feel like the taker rather than the giver."
He felt "humble and proud" as he knelt before Governor General Sir Jerry Mateparae.
The depression sufferer said his mental health was coping just fine.
"I am in great shape. I continue to look after myself daily. I don't think much about yesterday and I don't worry too much about tomorrow. Depression really taught me that."
Sir John received the highest honour in one of three ceremonies at Government House over two days, recognising more than 40 people for their services to the country.
He was in the company of other Kiwi sporting heroes, such as Olympic gold medallists Hamish Bond and Eric Murray.
Sir John arrived in style in his bright yellow 1967 Fiat Bambina 500. The car is passed around each week to a member of his team who commits the greatest gaffe.
This week it was Sir John's turn, after he reportedly "lost it" during halftime at last Friday's clash against the Stormers.
The team named the prize "Dick of the Week".
Previous recipients have been fullback Charles Piutau, whose face swelled when he ate bad seafood after the first game of the season.
Prop Angus Ta'avao has already had the vehicle twice, once for tripping over and the second time after he was pranked on a fishing trip.
***
Nathan Cohen
You might think Nathan Cohen would tire of coming first.
The champion rower is one of the New Zealand's fastest, his speed streak most notable when he won gold at last year's London Olympics.
This morning he continued to be first, beating his rowing partner Joseph Sullivan by two weeks to receive his Order of New Zealand honour.
In a ceremony at Government House in Auckland this morning, Cohen was made a Member of the New Zealand Order of Merit for his services to rowing - a fortnight before Sullivan will receive his at a Wellington event.
Cohen, who joins more than 40 high achieving Kiwis to receive honours over the next two days, said he hadn't planned to beat his teammate to this honour.
"I think it's just Wellington suited him better and Auckland suited myself better," he said with a laugh.
"It's very humbling to receive it, it's sort of something that you never expect."
The 27-year-old started rowing in 1999 and enjoyed it so much he never stopped.
As well as winning gold with Sullivan in the men's double sculls at the London Olympics, the pair have won back-to-back titles at the 2010 and 2011 World Rowing Championships.
Cohen is one of the country's fastest single scullers, having beaten multiple world champion Mahe Drysdale at the 2011 National Rowing Championships. That year he was also named Waikato Sportsman of the Year.
"You never get sick of them [awards ceremonies]," Cohen said.
"All of them are quite different in their own way and this [today] is something that is probably a once-in-a-lifetime opportunity.
"Obviously the gold medal [at the Olympics] was sort of significant in your sporting achievement whereas this [today] is probably a bit bigger than sport alone."
***
Graham Lowe
Graham Lowe has scaled the heights of rugby league.
He's coached the sport, been a CEO, authored books and inspired new generations of leaders.
But it was his proud twin 7-year-old boys Sam and Jack who put the biggest smile on Lowe's face today when he was made an Officer of the New Zealand Order of Merit for his services to the community.
"I'm proud of dad," Sam said as his twin Jack chimed in: "I think it's really cool."
Lowe said he was humbled by the honour.
"I'm flattered and I suppose you never feel worthy of it in any case.
"But I've been able to use probably the name I had in my sporting career to help promote other really important issues, like men's health."
Following his career coaching league in New Zealand, Australia and the United Kingdom, Lowe overcame life-threatening health issues and become a successful author and speaker on the topics of leadership, teamwork and men's health issues.
He has written two biographies and a book on fatherhood four years ago called Me and My Little Blokes.
As a successful leader in his own right, Lowe said he felt those leading New Zealand were doing an okay job - even if some acted like children.
"I think we've got a lot of good leaders [in this country]," he said. "I suppose it sometimes looks like you're looking at a kindergarten, but overall I'm proud of our leaders."
Lowe said misbehaving MPs like Aaron Gilmore in his Hanmer hotel outburst needed to be disciplined in the same way they acted.
"[I'd treat Gilmore] exactly the same as you'd treat someone in your kindergarten: you'd make them go and stand in the corner for a while," Lowe said.
And the political equivalent of standing in the corner?
"I don't know but I'm sure they've got plenty of corners," he said.
***
Eric Murray
As a champion athlete, Eric Murray has a lot of respect for the responsibility of being a role model.
Today the Olympic gold medallist was awarded another accolade to add to his endless list of achievements.
Murray was made a Member of the New Zealand Order of Merit for his services to rowing, an honour he said reminded him of the importance of being a positive role model for youngsters.
"That's one thing with sportspeople in New Zealand is it doesn't matter what [sport] you do, you're looked up to as a role model," Murray said.
"You've got to be careful of what you do and we like to think we don't do what a lot of rugby players do and get in a bit of strife."
The Cambridge rower won gold in the men's coxless pair at the London Olympics, setting new Olympic and world records at the same time.
Together with rowing partner Hamish Bond, the pair have won four World Championship titles and been named the International Federation of Rowing Associations' Rowing Crew of the Year in 2011.
"You don't get recognised just to be recognised, you've obviously done something that gives you the recognition from your peers, from the community, from New Zealand," Murray said.
"That's the great thing about it is we've obviously done a great justice to our country."
Murray said today's honour had an important place among his other achievements.
"Mainly all of our ones have been sporting [awards] hung around our necks, so this is different and it's pretty great to be recognised," he said.
"It's really humbling and it's something that doesn't come around very often.
"If I can project myself as a good standing citizen then that's all I'm trying to do."
***
Hamish Bond
Hamish Bond and his rowing partner make a formidable team.
So inseparable are they that Bond and Eric Murray were side-by-side in their Olympic blazers today as they were made Members of the New Zealand Order of Merit for their services to rowing.
"The nature of our sport and our event is that we are, I guess, intrinsically linked, probably for perpetuity," Bond said.
"I guess it's Bond and Murray or Murray and Bond, whatever way you want to put it around.
"And I'm comfortable with that.
"Each of us couldn't have done it without the other and each of us is an important cog. So I'm comfortable with being part of a team, a small one at that but it's still a team."
Bond said he hadn't had a lot of time to comprehend the significance of today's honour.
"I've been busy," the Olympic gold medallist said, training right up until a few hours before today's ceremony with the goal of repeating the success he's already had.
"You don't get sick of [awards]," Bond said.
"I personally didn't start out rowing to receive awards or anything like that. We just wanted to see how far we could go in the sport.
"[Today's] award is probably recognition of the impact sport has on the community and the public at large and that's something that we've noticed since coming back from London.
"We do have the power to inspire, I guess, and going to schools and seeing the reaction of kids has sort of brought that home."
The accolades continue to add up and Bond says he hopes they will keep coming.
"It's pretty obvious what the goal is ... to carry on winning.
"We've achieved really everything as far as accolades in our sport and our event but I guess the challenge at this stage is to do it all again."
- APNZ