More than 120,000 punters expected at Pimlico to cheer on Kentucky Derby hero Orb.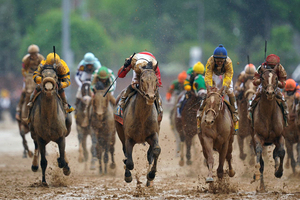 Ticket sales for the 138th Preakness Stakes are up nearly 10 per cent over last year, with some fans excited that the winner of the Kentucky Derby has a connection to Maryland.
Maryland Jockey Club president Tom Chuckas told the Baltimore Sun on Monday that sales for the May 18 event, at Pimlico Racecourse in North Baltimore, have increased about 9.5 per cent.
Chuckas said the jump in ticket sales, which suggests this year's race could see attendance rise for the fourth straight year and top the record of 121,309 set in 2012, was likely the result of several factors, including changing the race's "brand".
Organisers banned beer and other outside beverages from the infield, citing a desire to combat images of excessive drinking there.
Attendance dropped that year to 77,850 before rebounding as organisers put more emphasis on attractions, such as concerts and volleyball tournaments. It reached 107,398 in 2011, before setting the record last year.
"We made a determination it was time to change the brand [and] in 2009, we took a major hit," Chuckas said. "Right now, the brand is strong."
He added: "What you used to see with the Wild West is no longer there."
Some local horse racing fans are snapping up tickets, eager to see Orb, the winner of the Kentucky Derby. Fans said Orb, who is co-owned by Baltimore County resident Stuart Janney III, gives some Baltimore-area residents a sense of ownership.
"People really feel like it's their horse," said Dabney Porte, a Bel Air native. "Whenever it's a national or global event but you can relate to it on a hometown level, I think that gets everyone excited."
Porte, who works in social media, said she's seen a lot of buzz online about Orb and the Preakness. She hasn't bought a ticket yet but wants to go to the event and tweet to her audience from it. "It's hot for me, so I want to make it hot for everyone else," she said.
With a victory in the Preakness, Orb would have a chance to become the first horse to win the Triple Crown - victories in the Kentucky Derby, Preakness and Belmont - since Affirmed in 1978.