Kiwi ace to race in two WRC rounds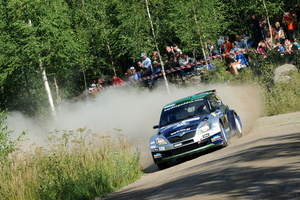 Money and the lack of big-dollar sponsorship had been scuppering the plans of 2011 production world rally champion Hayden Paddon and his co-driver John Kennard from taking on the top WRC drivers.
Paddon isn't just another "promising" young New Zealand rally driver on the way up. He's a proven world champion, and when given the chance last year, showed he's just as quick as anyone else in similar machinery.
"Last year was a confidence-booster for me," said Paddon.
"Okay, we didn't win the championship, but in saying that we were one of the fastest there, and we were on an extremely tight budget, which meant we couldn't test as much as the other teams.
"Even with little drive time between events we were still able to beat them as well as getting close to, and at times match, Sebastien Ogier in a world rally car.
"I'm not saying we're at that level yet but we're not far off. I think it's just a matter of being able to go out there again and showcase what we can do."
Paddon and his management team have secured enough finance to head back to Europe to race in two rounds. Paddon and Kennard will be racing the Finnish and German rounds (August 1-3 and August 22-15) of the WRC2 (the old S2000) championship and then try to get funding to complete the series while they're out there.
"It's amazing to be back in the WRC," said Paddon. "It may only be two events at this stage, but after last year I am more determined than ever to put the record straight and showcase what I know we can do - to be the fastest.
"It's been frustrating to watch the WRC from afar but we're heading in the right direction now. The good thing about entering the championship now is that there are still enough rounds left to complete the series.
"If we can get a couple of good results and build a bit of momentum there are the provisions there to do a full championship."
The pair need to get back up to speed as soon as they touch down in Europe. They will be helped by again signing with the BRR team with whom they had a great relationship last year and will once again be in a Skoda Fabia. They may also do a couple of smaller events outside the WRC with an Italian team they did a few races with last year.
"We're back with the same team in the same car as last year," said Paddon. "It's particularly good in the fact that we want to go out there and be fast from the very start.
"And to do that in a car we know well and have done a few races in already will only help us."
Fans of rallying will still get a chance to see Paddon and Kennard in action before they head off, at the International Rally of Whangarei, May 17-19.