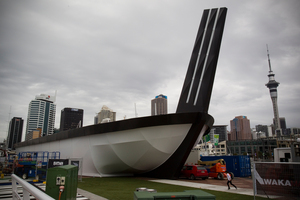 The Waka Maori - a canoe-shaped venue which pulled the crowds in Auckland during the 2011 Rugby World Cup - has been resurrected in San Francisco for the America's Cup.
Dubbed the "tupperwaka" by critics of its nearly $2 million cost to the taxpayer, the gleaming white hull hosted 400,000 visitors to the Viaduct Harbour during 11 days of the cup.
Later, it was donated to Ngati Whatua o Orakei, who had commissioned it and contributed $100,000 of the cost.
The 74m-long structure was dismantled and stored but now the tribe's commercial arm has hired it out to be a show boat again - this time at the Emirates Team New Zealand base.
"The waka is a powerful symbol and will help promote Aotearoa to the crowds that will gather for the America's Cup," said Ngati Whatua Orakei Whai Maia chief executive Tupara Morrison.
Some hapu members helped to assemble the waka on the waterfront beneath the Oakland Bridge, its site for the next four months.
The structure, which is a tension membrane over a framework of laminated pine, won an international fabrics award. Economic Development Minister Steven Joyce said a programme to showcase New Zealand in the venue was being developed alongside the sailing event.
It would be used by Emirates Team New Zealand, Auckland Tourism Events and Economic Development (Ateed) and NZ Trade and Enterprise.
He said the United States was New Zealand's third-biggest trading partner and California alone was a market of 38 million people. Innovative marine technology would be promoted at the base and New Zealand-made super yachts would be berthed nearby.
Ateed chief executive Brett O'Riley said its contribution to the show would be about $850,000 including helping to set up Waka Maori and promoting Auckland business.