Dalgety scraps Breeders Crown trip to give stable star his best chance of winning feature.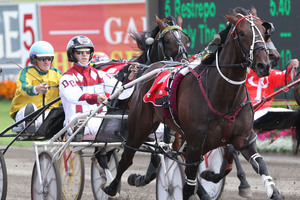 Trainer Cran Dalgety has provided the New Zealand Cup with an early boost by confirming it as the major spring target for pacing sensation Christen Me.
The 4-year-old flying machine added another huge feature to his season's haul when he blew away his rivals in last Friday's Messenger Pace at Alexandra Park.
He will next head to the Jewels at Ashburton on June 1, for which he is certain to open favourite for the 4-year-old division in the next few days. Dalgety had then been toying with the idea of heading to Melbourne for the Australasian Breeders Crown but says that is likely to scrapped.
"I don't think you can really do the ABC and the New Zealand Cup.
"Well, particularly not if you want to race on after the New Zealand Cup.
"That four months after the New Zealand Cup is really intense, with everything from the Miracle Mile, Victoria and Hunter Cups to the Interdoms and the Auckland Cup.
"So he is going to need to have a break somewhere and it is probably going to be after the Jewels.
"Which is a real shame, to be turning our back on a A$100,000 race in Aussie at the Breeders Crown."
But Dalgety says the lure of winning his first New Zealand Cup is too great to ignore.
"It only comes around once every 365 days and you don't often have a horse good enough to win it.
"I am not saying I do now but he will be five next season and there is no reason to baby him anymore."
That will mean teaching the sensational miler and Chariots Of Fire winner new tricks as Christen Me has never started in a standing start.
"That would have bothered me at the start of his career because he was a bit of a hothead, but he has really calmed down now and you could drive him on two pieces of string.
"And most of the lead-up races down here are standing starts so he can get some serious practice.
"If he doesn't handle it then we have the option of changing tack again and heading to the Free-For-All a few days after the cup and using that as a lead-up to the Miracle Mile."
While Christen Me will be red hot for the Jewels, Dalgety divulging his plans for a Cup campaign raises some questions about that market.
While it is still months away from being opened there won't be much exposed form before bookmakers, and punters, have to ask themselves who deserves favouritism.
Would it be Terror To Love as he looks to become only the third pacer to win the cup three times?
Australasia's best pacer, I'm Themightyquinn, who is being set for the cup but will be a veteran with no guarantees of making the trip?
Or the most exciting young pacer in Australasia with the fresh legs and the race on his back doorstep?
Christen Me's win last Friday adds some historical clout to his claims, eight of the past 11 Messenger winners before him have gone on to win a New Zealand or Auckland Cup.
Meanwhile, the two favourites for the age-group features at Addington on Saturday both face tricky draws.
Champion filly Adore Me will start from seven in the $150,000 Nevele R Fillies Final, with speedster Delightful Christian drawn inside her.
Unbeaten Aussie Allblack Stride starts from the outside of the front in the $225,000 Sales Series Pace.
Rowe Cup winner Stig will also start at the day-time meeting.