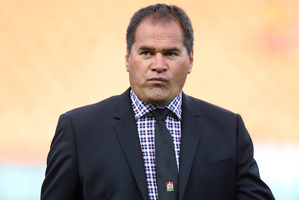 Chiefs coach Dave Rennie is furious at the backing of the television match official's actions in awarding two tries to the Rebels against his side at the weekend.
Sanzar referees' boss Lyndon Bray yesterday backed TMO Steve Leszczynski's decisions in giving the green light to a Scott Higginbotham try, despite the ball clearly travelling metres forward from the final pass in the Chiefs' 39-33 victory in Melbourne.
Leszczynski also ruled legitimate a borderline pass from James O'Connor to Kurtley Beale which led to a try to Nick Phipps, a decision which Bray said his Australian official had also got "100 per cent right".
Rennie has hit back, calling the backing of the decisions "ludicrous" which had the potential to "open up a can of worms".
A fourth try to Chiefs fullback Gareth Anscombe late in the match was ruled out by Leszczynski because of an apparent knock-on in the build-up, something Bray said his official got wrong.
However, Bray said he fully backed Leszczynski on his forward pass rulings, saying: "My basic answer to Dave around that is that I think he has been absolutely wrong in what he has said to the media, which is unfortunate because he has a particular view which I think when you test that against the law and you test it against our review of those decisions, they are correct decisions."
Bray's judgment elicited a heated response from Rennie, particularly the ruling over Higginbotham's try, which he believed was thrown 4m forward.
"If that's not a forward pass then we'll start getting guys 10m down the track and we'll start throwing it to them. That's just ludicrous.
"In the end they're going to open up a can of worms if they think they can fob that decision off with the fact that the hands are facing this way and the ball has drifted forward because there's going to be massive questions every game due to that.
"I guess they're in charge, aren't they, but gee our game's in a hell of a state if they start saying those sorts of decisions are acceptable.
"He's thrown a pass and it's gone 4m forward. I just think it's a forward pass."
Bray conceded the Higginbotham try was a "tough sell" but maintained it was the correct decision.
"The TMO doesn't worry about the travelling forward in terms of his decision, what he worries about is whether the hands are passing the ball forward or whether the hands go sideways or backwards, which therefore means the player has not thrown the ball forward, that's all he worries about.
"His logic on both decisions where we play on for a try is that both players have ... attempted to pass it back so play on. I believe his logic is 100 per cent right. We've checked that with five or six law experts. We have a group of reviewers who are very expert around the law, so it's not just my view, it's a co-ordinated view."
Leszczynski got the Anscombe try wrong because there was nothing "clear and obvious" that should have prevented it being awarded, Bray said.
He said a higher burden of accuracy was placed on a TMO because of the camera angles he had available and said he was extremely happy about Leszczynski's performance in the match on Friday night and in previous games.
"I'm certainly not going to hang him out to dry on the basis of one decision, particularly given his track record up to this point."
The defending champion Chiefs, second on the table but closing in on the Brumbies, host the Force in Pukekohe on Friday night. New Zealander Vinny Munro is the TMO.
- APNZ