Jonathan Paget's horse showed signs of injury and it looked as though he could be scratched after failing the first inspection - but he pulled out something amazing to win.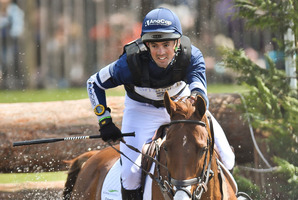 Going to sleep on the night before the final day of Badminton, Jonathan (Jock) Paget knew he needed two things to win: to have a perfect showjumping round and hope Michael Jung, who was ahead by one penalty, did not.
And yet all that had changed by the time Paget woke up. His horse, Clifton Promise, showed signs of injury and was failed the first inspection of the morning. For 15 nervous minutes, it looked as if he could be scratched and Paget's hope of victory dashed.
"I was panicking a bit and thought I'd lose my shot at the title," the 29-year-old said moments after winning the three-day event at his first attempt. "He's always been the type of horse to pull something amazing out. And that's what he did."
Clifton Promise was cleared by the vets and then cleared every fence, to reclaim the lead from fellow Kiwi Andrew Nicholson, who also had a flawless showjumping round.
All weekend, the focus had been on Nicholson's bid to defeat his arch-rival William Fox-Pitt and claim the "Grand Slam" of eventing.
The 51-year-old Nicholson has completed Badminton 33 times, more than anyone else, and never won. Yet he was the first to swallow his disappointment and congratulate Paget after he completed his perfect round.
The pair hugged as Jung trotted past them as the final rider.
The German is the only person to hold the Olympic, world and European titles at once and was clearing the fences with ease. With one rail left, most assumed the title was his.
Paget could not bear to watch.
"I wasn't looking. I was hanging out with the horse and I heard them say it was going down to the last line.
"I've spent a bit of time with Michael and he's such a perfectionist. "The crowd cheered and I thought 'Well, he deserves it.' Then I heard the crowd groan and I thought, 'S***, I think I just won.' I came here knowing that I could win, but I never thought I would win ... This will take a week or so to sink in."
Paget is only the second person to win Badminton at his first attempt. The other is Sir Mark Todd in 1980, who went to win three more times, most recently in 2011.
Sir Mark was disappointed to finish 48th this year but watched proudly as Paget received the plaudits.
"Jock's been knocking at the door of winning a major for a couple of years now and everything came together for him today.
"His horses are at the right age and Jock has the right experience."
Owner says horse and rider are 'both superstars'
Frances Stead who owns both the horses that Paget rode at Badminton, tipped Clifton Promise to be a "megastar" when she bought him as a 3-year-old.
"And he's proven us right. It was a beautiful round and I don't think he got within six inches of the bar. You can't ask more than that."
She also lavished praise on Paget.
"Jock rides him superbly. Everyone says: 'Jock's so lucky to have Clifton Promise'. But Clifton Promise is so lucky to have Jock. They're absolutely brilliant, both superstars. Badminton is always the one I've wanted to win. So we've done it."
The talk at Badminton all week was the contest between Andrew Nicholson and his rival William Fox-Pitt who each had the opportunity to win the 'Grand Slam' - and an extra US$350,000 ($411,500).
Nicholson laughed when asked if he saw dollar signs after Fox-Pitt incurred a penalty, giving him the lead shortly before Paget and Michael Jung completed their rounds.
"No ... It would be nice to win the extra $350,000. But I didn't have it to start with, so I haven't lost it. I'll be aiming to win that dream again.
"I'll be back again. I've thoroughly enjoyed the whole week and the buzz of it all. I was just pleased to play my part to the end. And it's great for New Zealand to celebrate Jock's win."
Paget said he planned to celebrate with a quiet beer before getting back to work at a novice event in two days' time.
Kiwis at Badminton 2013
1) Jonathan Paget on Clifton Promise
3) Andrew Nicholson on Nereo
11) Andrew Nicholson on Avebury
14) Jonathan Paget on Clifton Lush
21) Caroline Powell on Onwards and Upwards
33) Caroline Powell on Boston Two Tip
41) Lucy Jackson on Animator II
44) Megan Heath on St Daniel
48) Sir Mark Todd on Major Milestone