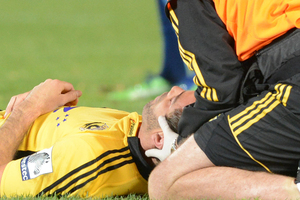 Hurricanes coach Mark Hammett says captain Conrad Smith will miss this weekend's clash with the Cheetahs but is improving faster than expected following a heavy head knock last weekend.
Smith was knocked out during Sunday's 48-14 loss to the Bulls in Pretoria as he went in to make a tackle on his opposite number JJ Engelbrecht mid-way through the first half.
The 31-year-old was carted off the paddock on a stretcher following the sickening collision with Engelbrecht's hip but regained consciousness shortly after and was taken to hospital after the game for scans on his neck, which eventually came back clear.
Hammett said today that the All Black centre is on the improve.
"He's doing very well actually. He's in very good state. He came down to training with us and took a very limited part in that. In terms of his general well being, general feeling, he's very up. Probably more so than he thought he would be as well."
Smith's return to the rugby field remains unclear however.
"One thing that is definite is he won't be available for this weekend," Hammett said.
"Like all injuries, practically these types of injuries, we've got to be really careful and monitor them. But there's no doubt we've got the best people looking after that and Conrad's a very very smart man as well, there's no way he'd put himself at undue risk.
"In terms of my perspective he's seems very chirpy and quite upbeat. He wants to stay in Africa with the team."
- nzherald.co.nz/APNZ