Jonathan Paget has won the Badminton horse trials in a thrilling finish which came down to the final rail.
The 29-year-old becomes only the second New Zealander to win the prestigious event after Sir Mark Todd, with fellow Kiwi Andrew Nicholson finishing third.
Paget went into the show jumping round in second place needing a clear round on Clifton Promise and hoping that the leader Michael Jung dropped at least one rail.
He managed to complete the course without a mistake but could not watch as Jung - the current Olympic, World and European champion - followed immediately after.
Jung seemed certain to claim victory until the last jump when he clipped the final rail.
The crowd cheered - then groaned - for the German and then all eyes turned to Paget.
He won on his very first attempt at the famous course.
"I'll need a week for this to sink in ... I wasn't looking. I was hanging out with the horse and I heard them say it was going down to the last line.
"I've spent a bit of time with Michael and he's such a perfectionist. When he gets to the last fence, you expect him to have it down.
"The crowd cheered and I thought, 'Well, he deserves it.' Then I heard the crowd groan and I thought, 'S***, I think I just won'."
Paget, better known as Jock, paid tribute to his horse Clifton Promise which overcame an injury scare in the morning which threatened to derail his bid.
"He was a little bit scratchy. Obviously, I was panicking a bit and thought I'd lose my shot at the title.
"He's always been the type of horse to pull something amazing out. And that's what he did."
Once out in the Badminton arena, Paget said he felt calm.
"I don't think it ever feels easy with the pressure. [Clifton Promise] was amazing, he was jumping everything as hard as he could. And he never made a mistake, he was perfect.
"Winning Badminton is everyone's dream. I came here knowing that I could win, but I never thought I would win.
"I had some heavy artillery; two amazing horses and they both put together three great phases."
Paget also paid tribute to fellow Kiwi Andrew Nicholson, who came into Badminton needing to win to claim the 'Grand Slam' of eventing ahead of his great rival William Fox-Pitt.
Sitting fourth coming into the final day of showjumping, Nicholson also needed to a clear round to put pressure on the leaders.
He did that on Nereo and then took the lead briefly after Fox-Pitt dropped a rail, until Paget followed with his winning round.
Nicholson has now completed Badminton 33 times - but is yet to win - and missed out on the US$350,000 prize for the Grand Slam.
While disappointed, Nicholson was the first to congratulate Paget after he completed his ride to take the lead.
"It's great for New Zealand to celebrate Jock's win. Me and Mark [Todd] are getting on a bit, so to have someone like him from our country, will make us very alert and focused.
"I'll be back again. I was very happy with my horses' performances. It's been great for the sport, I've thoroughly enjoyed the whole week and the buzz of it all. I was just pleased to play my part to the end.
"It would be nice to win the extra $350,000. But I didn't have it to start with, so I haven't lost it. I'll be aiming to win that dream again."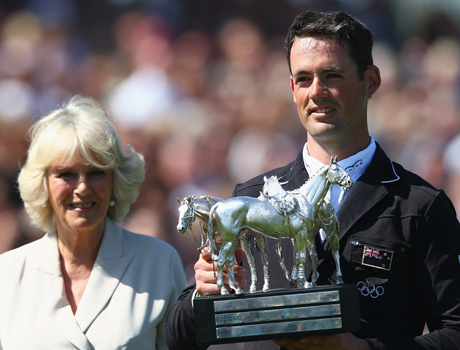 Jonathan Paget with the winners trophy as Camilla,Duchess of Cornwall watches on. Photo / Getty Images
KIWI FINISHES
1. Jonathan Paget on Clifton Promise
3. Andrew Nicholson on Nereo
11. Andrew Nicholson on Avebury
14. Jonathan Paget on Clifton Lush
21. Caroline Powell on Onwards and Upwards
33. Caroline Powell on Boston Two Tip
41. Lucy Jackson on Animator II
44. Megan Heath on St Daniel
48. Sir Mark Todd on Major Milestone
From the archives:
Todd claims Badminton 31 years after first win