Secret TV schedule shows many of the games in England will be played at night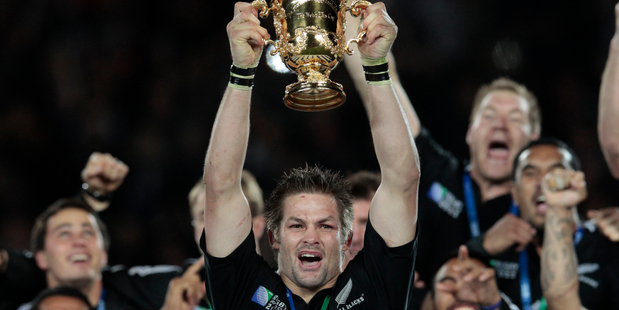 Nearly half the matches at the 2015 Rugby World Cup will be played at night in England - meaning All Black fans in New Zealand will enjoy many games with breakfast instead of bleary eyes.
Most rugby games at Twickenham are usually played in the afternoon, meaning viewers on the other side of the world need to get up in the early hours to watch them live.
When the dates for the 2015 games were released last week with much fanfare, the actual TV schedule remained under wraps. But the Sunday Times newspaper has reported that 22 of the 48 matches - including all the knockout stages - will be played at 8pm local time.
Just 10 games will be played at 3pm.
A provisional schedule obtained by the Times, which RWC sources indicated was likely to be confirmed, said night matches were preferred by television stations in order to attract larger audiences.
An 8pm kickoff time would mean the rugby could be shown by ITV immediately after Coronation Street.
This means that when the tournament begins on September 18, the evening matches would screen at 7am in New Zealand.
To complicate matters, there are daylight saving changes in both time zones during the tournament.
On Sunday, September 27, 2015, the clocks go forward in NZ - meaning a 12-hour time difference - and the night games will screen at 8am.
Then on October 25, the English clocks go back one hour - meaning a 13-hour time difference with New Zealand. If the All Blacks contest the final at Twickenham four days later, fans back home will be watching at 9am on a Sunday.
While those times are much easier than setting the alarm to wake up very early, the late kickoff times will disappoint the majority of ticketholders and players who prefer rugby with the sun on their back.
Organisers faced similar criticism over evening games at the 2011 RWC - sometimes as late at 9.30pm in New Zealand - to pander to the lucrative European broadcasters.
The Employers and Manufacturers Association does not think the times will have much of an impact on New Zealand businesses.
"It's early days and we've got a wee way to run yet, so we don't know how things will be looking in 2015 just yet," said spokesman Gilbert Peterson.
"But normally New Zealand employers take a liberal view about start times, and can be flexible ... and allow their employees to make up time later on if necessary."
Getting the times right
Rugby World Cup time difference for 8pm kick-offs in England
*September 18, 2015 - Tournament begins in England. Kick-off 7am in New Zealand.
*September 27, 2015 - Clocks go forward in New Zealand with daylight saving. Kick-off 8am.
*October 25, 2015 - Clocks go back in the UK with daylight saving. Kick-off 9am.