Central Districts horseman struck a winning rhythm with inter-island double.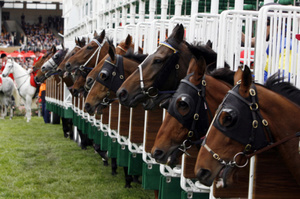 Jumpers might have held the attention of many on Saturday, but Mike Breslin trumped most of them.
The Awapuni trainer produced Salamanca to win the Champagne Stakes at Riccarton and rapidly-rising star Ringo to score a narrow but stylish win at Te Rapa.
Both look like having big futures next season.
Ringo jumped up several grades to win, his third victory from four raceday appearances.
"He always looks like he's just getting there, but every jockey who has ridden him says he always has more when he's asked for it," said Breslin yesterday.
That is generally one of the signs of a very good horse.
Breslin went to the 2010 Premier Karaka sale with $300,000 to buy a Fastnet Rock colt on behalf of five investors, obviously the main aim being a potential stallion prospect.
He picked up Ringo on the opening day of the sale for $150,000 and the team behind him first thought they would leave it at that, but then bid on another Fastnet Rock on the second day, securing him for similar money.
"We ended up gelding them both because they were each slow-maturing types," said Breslin.
Ringo has jumped into the bridle first, but Breslin has not given up on the second, named Rock Band, who will have his third start at Wanganui tomorrow.
"He ran sixth as an early 3-year-old then he had a break and finished only seventh at Trentham a few weeks back, which I thought was very disappointing. He'd won a trial and a jumpout going into that and has won the same since, so I don't know what went wrong last start, but I'm not too worried."
Ringo won the last race at Te Rapa on Saturday.
"He got back home at midnight and ate up straight away, so he's come through it well. I will make up my mind later in the week whether he goes on a brief Australian campaign, or he gets turned out to spell.
"If he goes it will be to Melbourne or Sydney. He's only had one run at 1600m in those four starts, so it's too much to expect him to run 2400m of the Queensland Derby in four weeks.
"There is plenty of time for him, he should be good next season."
Salamanca was not unknown to Breslin when he went into the ring at Karaka as a yearling last year.
"I go back that far with him I actually bid on his dam, Anchor, when she was auctioned. I followed her career then I saw this bloke right through his early days."
The colt was one of the first draft of Alamosa, on whom the jury was out, but now is not.
"I thought he was the best Alamosa in the sale by that far it wasn't even funny. I thought he'd make $150,000 and I wasn't prepared to pay that without an owner in mind.
"I followed him into the ring and the bidding stalled at $75,000 and I thought I'd put in one bid and got him for $80,000. I honestly thought I'd got a bargain."
The Alamosa yearlings last year impressed many good judges.
"I was pleased that so many Australians came to the sales this year - and the second year is always difficult for a stallion - and paid $140,000 to $150,000 for them which is always a sign they are showing something."
•Victories to Inishmaan and Popeye Braggins at Te Rapa on Saturday continued a wonderful season to date for the Cambridge based training partnership of Tony Pike and Mark Donahue.
The two wins took their tally to 23 for the season which includes 7 stakes wins for total prizemoney in excess of $900,000 and an impressive 4.48 strike rate.
"It is our best season to date with some excellent results in the bigger races. However, we are just as pleased to have maintained such a good strike rate throughout the season," said Pike.
"I guess the biggest highlight has been the win of Sacred Falls in the 2000 Guineas and we are thrilled that he could go on and do what he did in Sydney with his Doncaster win."
The stable is winding down for the winter months in New Zealand although the partnership will campaign a small team in Brisbane over the next few weeks which is led by 1000 Guineas runner-up Waterford.
"We're taking three to Brisbane at this stage with Waterford, Carrick and Chintz all booked to fly out on the 9th of May," said Pike.
"We were thinking of sending Kelly O'Reilly as well but she has probably done enough in this campaign so we may line her up for one more run at Rotorua this weekend before she goes to the spelling paddock."
- Additional reporting NZ Racing Desk