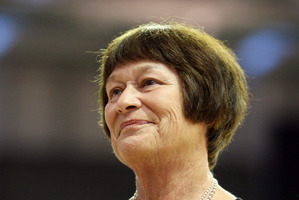 It's one step forward two steps back with the Central Pulse.
One week they will beat the defending premiers in the ANZ Championship then the next they will be blitzed off the court across the Tasman, leaving coach Robyn Broughton to wonder what she has to do to make her side consistent.
The Pulse were soundly beaten 52-30 by the Vixens in Melbourne today, which undid most of the good work they put in by beating the Magic 53-52 in Wellington last week.
The only thing you can say about the Pulse is that they're consistently inconsistent.
This season they've run some top sides close, produced an unlikely come-from-behind win over the Steel, fallen over against a mediocre Mystics outfit and recorded their first victory over the Magic in franchise history.
They've got the best roster they've had since the ANZ Championship was given life in 2008 but the ongoing fitness concerns of world-class wing defence Joline Henry has left a huge gap in their starting seven.
Victoria Smith and Daya Wiffen have job shared admirably at WD but they don't have the class that Henry offers and the Silver Fern, who gave birth in the off-season, hasn't even suited up in the past two weeks.
Against the Vixens the Pulse suffered a horror slump during the second and third quarters that they never recovered from.
With the scores locked up at nine each after the first stanza, the Vixens went on a rampage in the back end of the second period and went to the main break with a 21-16 advantage.
The home side were quicker with the ball through court and the injection of veteran shooter Sharelle McMahon in the second quarter proved telling for the Vixens as she immediately made an impact.
The 35-year-old showed her class as she connected with four goals late in the second quarter to settle the Vixens side down and they never looked back.
They dominated the third quarter with a 16-7 effort and with the scoreboard reading 37-23 heading in to the final 15 minutes the game was as good as over.
Australian import Caitlin Thwaites, who came in to the game as an 87 per cent shooter for the season, only shot 15/21 as she struggled against her old side and the Pulse weren't able to work her or Donna Wilkins in to the game.
Eventually Thwaites was pulled in the fourth quarter as Paula Griffin was given a rare opportunity on court this year for the final few minutes.
The Pulse spent varying parts of the contest protesting and clarifying calls with the umpires but the way the whistle went had little to do with this comprehensive result.
Melbourne Vixens 52 (Tegan Caldwell 24/34, Sharelle McMahon 20/23, Karyn Howarth 8/11) Central Pulse 30 (Caitlin Thwaites 15/21, Donna Wilkins 11/13, Paula Griffin 4/6) 1Q: 9-9 HT: 21-16 3Q: 37-23
- APNZ