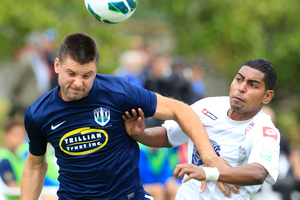 Chris Bale may share the same surname and nationality as his superstar namesake Gareth but that's where the similarity ends.
Unlike the Spurs winger, Bale, the 2011-12 ASB Premiership player of the season, works full time as well as training up to five times a week. Work commitments forced the Auckland City midfielder to miss his team's crucial OFC group B decider in Tahiti last week, where a tense 1-1 draw with Dragon ensured Auckland City's progress to today's semifinal first leg with Ba.
It highlights the dichotomy of the O-League. In a tournament that carries a purse of US$500,000 ($587,000 - more than the NRL, Super Rugby or A-League), the players (in New Zealand anyway) are strictly amateur.
"I started a new job in March," explains Bale. "We have been flat out and I simply couldn't get away. Work have been very understanding but I hadn't accrued enough leave."
Bale is a territory manager for Frucor Beverages and looks after up to 150 customers a month.
As trivial as it sounds, he had customer appointments last Monday that he was unable to break. It meant Bale - who has been one of the stars for Auckland City this season - had to sit nervously in his living room, watching the action on YouTube.
"It was pretty horrible," admits Bale, especially when it was on a knife edge in the last few minutes."
Bale has gone to extreme lengths in the past before to play, making sacrifices that players in other codes don't have to contemplate. For the group match with Mon Dore last month, Bale left Auckland at 9am on Saturday for a game at 3pm the same afternoon in New Caledonia.
"It does get tiring sometimes," says Bale. "Sometimes you wonder what the hell you are doing but you do it because you love the game."
Bale is out the door by 6.45am each day to be at his desk by 7.30am. On training nights (Tuesday, Wednesday, Thursday and sometimes Friday) he won't be home until late evening and for Sunday matches, Auckland City will also train on Saturday mornings. It's a physical and mental strain; after a hard game on Sunday afternoon, there is no time to rest with a full day of work ahead.
The 30-year-old Bale emigrated to New Zealand six years ago. He had played for Newport City and also had some game time with Swansea City reserves, counting England and West Ham striker Carlton Cole as the toughest player he has faced. Despite his thick Welsh accent and surname, he doesn't get much stick about Tottenham Hotspur's star Gareth Bale, though a section of fanatical City supporters have a popular chant that choruses with: "Chris Bale, Chris Bale, he's too good for Wales ..."
As well as having an excellent shot and an illustrious work ethic, Bale is famed for his steely determination and hard-nosed resolve.
"Chris is extremely competitive," says City coach Ramon Tribulietx. "He is a confident player and a winner. The character of our team can be very relaxed - which is not a bad thing - but Chris brings a balance and a real will to win."
Bale has three O-League triumphs on his CV but knows that Ba will be a formidable foe on the road to the 2013 Fifa Club World Cup in Morocco. The Fijian champions were unbeaten in topping group A, with Nigerian striker Sanni Issa the current leading scorer (nine goals) in the O-League.
"It will be a physical game," says Bale. "They have some big boys. It is key that we keep our composure throughout and the first goal today is vital."
It is set to be a special day in Sandringham today, with 3000 fans converging on Kiwitea St. All but 200 tickets for the match were pre-sold.