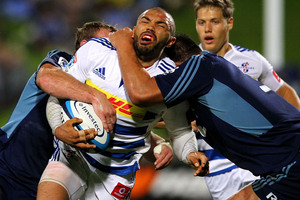 The Blues have been careful not to brand 2013 a development season, even though it has been. If they had been so inclined, they could now make the claim that it no longer is: Friday's win against the Stormers was a breakthrough victory - the sort that said they are learned rather than learners.
The reason no one likes the term 'development season' is that it implies forgiveness for continued failings. Repeat mistakes are tolerated, accepted as the inevitable consequence of fielding young players who lack experience.
Of all the improvements the Blues have made in the past 12 months, the one that stands out is their relative consistency - at least in quality of performance, if not results. Unlike previous years, the Blues of 2013 have not blundered along seemingly oblivious to what happened from one week to the next. They identify problems and patterns and adapt.
Having been beaten up earlier in the year by the Bulls - a game in which they were guilty of trying to play too much rugby, they were patient and conservative in defeating the Stormers 18-17.
The Stormers, much like the Bulls, use their enormous pack to slow the game, to keep possession and frustrate teams. They use their driving maul and swarming defence to build the pressure and effectively goad more expansive teams into taking risks. When the Blues encountered their first African side - the Bulls - in week three, they were naive, error-ridden and rushed. Friday night's clash was their second against African opposition and the tactical approach and outcome were entirely different.
The key difference was the realisation that the home side had to be patient: they had to accept that they were in a war of attrition that wouldn't be won with undue risk taking. It was about manning up at the collision, kicking rather than running from deep and taking points however they could.
Nowhere was the growth in understanding more obvious than in the performance of the Blues' loose trio. They have impressed all year with their ball-carrying and tackling; against the Stormers it was their raw courage and appetite for hard work that stood out.
"They will realise that it is about working as a three," said skipper Ali Williams. "It is not about working as an individual. It is about working as a combination and they are starting to get that. At the start of that game, Pete Saili did a lot of carries. By the second half Peter wasn't carrying so much - it was Steve [Luatua]. They were working together and Luke Braid was ... well, he just gets through a lot of work.
"The interesting part was that they [Stormers] are an African side and they play a different style of rugby and they can frustrate you. With a young team, that is one of the risks - you can get frustrated if you can't make that break or make it an open game.
"We had to learn how to win ugly, because against African teams you have to win ugly. We are building - little combinations are building."
• Keven Mealamu, who came off midway through the first half with a calf complaint, is expected to be fit to face the Rebels on Saturday. The 34-year-old hooker, who has a long history of lower leg issues, said his departure was precautionary - he felt his calf tighten rather than tear.