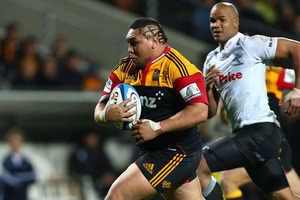 Project Ben is still going and the odds of success - of turning Ben Tameifuna into a world-class hybrid front-rower - have risen.
The Chiefs tighthead is the most complex and intriguing emerging talent in New Zealand. He is a potential World Cup star and a front-rower, the likes of whom have rarely, if ever, been seen in New Zealand.
He is higher risk than his immediate peer group. He played in the same New Zealand under-20 side as Brodie Retallick, Steven Luatua, Brad Shields, TJ Perenara and Beauden Barrett - all of whom are either All Blacks or destined to be so. Tameifuna hasn't previously shared their dedication to healthy living; he hasn't previously had the same grasp on expected professional standards and he hasn't had the same attitude towards training.
Midway through last year, he was threatening to be more familiar with the police than he was with All Black coach Steve Hansen.
But while Tameifuna is higher risk, he is potentially higher reward too. Hansen, on the evidence of this year and last, rates Tameifuna as the second-best scrummager in the country. He's only just behind Owen Franks.
In terms of ball skills and defensive chores, Tameifuna is among the best, too - certainly not outclassed by the likes of Charlie Faumuina and Ben Afeaki.
The added advantage, and the real attraction of Tameifuna, is the conviction that he could develop into an equally good hooker. The Chiefs used him as cover there earlier in the season and both they and the All Blacks have seen enough to believe he could nail the technical chores.
That could be gold for the All Blacks - a world class scrummaging tighthead who can also cover hooker. That opens up the prospect of juggling resources on the bench; tailoring the reserves to suit the opposition. It also opens the prospect of the All Blacks being able to pack down with an enormous, technically efficient and dynamic front row if Tameifuna is at hooker.
It's exciting, revolutionary almost and the sort of resource the All Blacks would love to have at their disposal at the 2015 World Cup which will inevitably be played on heavy grounds with a wet ball.
Tameifuna's just as keen to become that hybrid player: "I am confident about throwing the ball. I covered hooker in our first game against the Highlanders. It was out of the blue ... Hika [Elliot] went down with a calf injury and Tom [forwards coach Coventry] automatically came out and said 'you are covering hooker now'. I was sweet with that. I was confident. I can throw the ball, it is just a matter of getting the time on the field."
That's not quite all. The vision of Tameifuna slotting in at hooker is based on the giant premise he'll one day get himself fit enough to be able to do justice to the role. At the moment, he's a long way from having the aerobic base or stamina to be a dynamic threat wearing either No 3 or No 2.
By the end of last year his weight was close to 150kg. His life was a bit of a mess too, earning a community service sentence for drink-driving; he was dropped by Hawke's Bay.
He had spent the Super Rugby season living with Coventry and, under the watchful eye of the coach, Tameifuna kept himself in passable condition. But when he returned to his native Hawke's Bay, old friends and old habits became a problem. He fell off the rails spectacularly, which is why the Magpies have not contracted him for 2013.
Instead, Tameifuna will play for Waikato, Hawke's Bay coach Craig Philpott saying recently: "Both parties agreed it would be for the best if we parted ways. It was amicable."
The shift is about forcing Tameifuna to take responsibility for himself: to become self-dependent, reliable and motivated.
"I am independent now," he says. "I have to stand on my two feet now ... that is a big part of being a rugby player. I have signed with Waikato for the next two years and I can pretty much call Waikato home for the next two years which is a good feeling.
"I have some good people around me. I have got Tom [Coventry] and there is Dave Rennie, heaps of support actually ... so I won't have the distractions I had around me in the Hawke's Bay."
The first, and no doubt continuing challenge for Tameifuna, is to bring his weight down and his fitness up. After making the All Black squad for the June tests last year, he was sent back to his province with instructions to get into the best condition of his life.
As well as discovering he had unwelcome influences in the region, it became clear to those monitoring Tameifuna that he wasn't the sort who was ever going to be motivated by pounding the roads or a diet of straight running.
"Maybe it is just me ... say if someone told me to run 5km non-stop ... as opposed to running, hit someone, get off the ground and do it again, it's much easier for me. Running 5km is not easy for me. Knowing I can make a tackle, or get my hands on the ball ... keeps me interested. I am 139kg at the moment. I would like to keep going down. I am probably losing about one kg or half a kilo a week and coming down to 130kg-132kg would probably be a target for me."
At 130kg, the risk-reward equation tilts back in favour of reward, which is why no one is prepared to give up on project Ben.