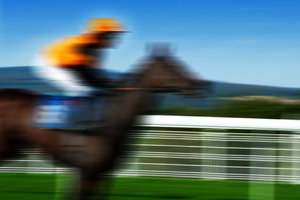 About the average lifetime of a horse ago I won the last ever Brian Bergin memorial racing journalists' award.
Not sure now how good the writing was at that time to deserve the award, but I'm pretty certain I won it because of the brilliant heading placed on the story by the newspaper's sub-editor.
The content was about how - contrary to popular belief - most jumps jockeys claim riding on the flat is more dangerous than competing over fences.
The hugely talented Paul Hillis was the central figure and he was adamant he was hurt more on the flat.
The heading read: "Jumps Riding Dangerous - Don't Fall For That".
Paul Hillis is the son of Brian "Baggy" Hillis, who was indestructible in a long career in the jumps caper.
His son wasn't far behind in that area, but even allowing for the Hillis cast iron physicality - proven again by another son Wayne Hillis - most jumps jockeys survive very well compared to their flat compatriots.
That's something 17-year-old apprentice Rory Hutchings can take to the start with him when he has his first jumps ride aboard Gee Oh in Race 1 at Te Rapa today.
Without having completed his first jumps ride, Hutchings is one who can testify that riding on the flat can be equally, if not more, accident prone.
At a recent barrier trials meeting at Cambridge, Hutchings had just been legged onto a horse trained by his bosses Graeme and Debbie Rogerson.
Within seconds, while barely moving, he copped a double-barrel kick halfway down a shin from northern racing's unpredictable Zurella. The sound was sickening and so was the hole in Hutchings' shin, an anatomy part that doesn't lend itself to blunt force trauma.
How the leg was not broken remains a mystery, but that toughness will be an asset as the teenager adds another sphere to his riding career.
Thirty five minutes after Hutchings rides in the opener, 46-year-old Craig Thornton has his first race ride in eight years in the restricted open hurdle.
Thornton was widely regarded as one of the world's best jumps jockeys when competing for 10 years in the United States and as many years back home. One of the reasons for his welcome decision to make a comeback is that he was barely hurt by the jumps in what he calculates is 2000-plus jumping rides.
"The worst injury I received was on the flat.
"Between fences at Belmont [New York] one day I clipped a heel and in the fall I broke two vertebrae.
"I had the usual collarbones and such in falls over fences, but nothing as bad as that back injury on the flat," he said.
A magnificent example is the father of all jumps racing, the late Ken Browne.
Goodness knows how many fences he jumped on raceday - the total would probably stagger even the aficionados.
Despite riding through until age 67 to become the world's oldest professional jumps jockey (although officially designated an amateur), it was not a raceday fall that paralysed him in 2003 and eventually killed him five years later.
Browne fell jumping a "nothing" practice log at home on the farm at Cambridge.
He did however break collarbones so frequently that one shoulder almost appeared as if it were directly attached to his neck.
It's not all bad.