Ex-Maori All Black's fall from grace follows years of court appearances and long list of convictions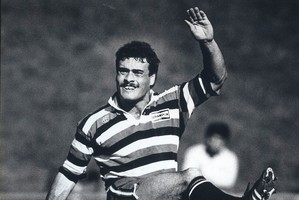 He was a Maori All Black, Sevens star, local rugby hero, a successful self-employed accountant, a loving father of three ... a typical bloke living the Kiwi dream.
But Lindsay Raki was also a thief who, over several years, pilfered and pocketed more than $300,000 intended for two South Auckland youth organisations.
His fall from grace appeared rapid. He was charged with 11 counts of theft totalling $304,216.65 after an investigation by the Department of Internal Affairs into the distribution of poker machine grants intended for the Manurewa High School Rugby Academy (MHSRA) and Counties Manukau Youth Development. (CYMD). Soon after the grants arrived in the organisations' coffers, Raki would transfer the money to his personal accounts.
His scheme was discovered by Internal Affairs, and on Wednesday he was jailed for almost three years.
To many, Raki's offending may have been a surprise.
But the Weekend Herald can reveal that the convictions followed years of appearances before the courts for the former rugby star.
Court documents obtained by the Herald show that the 51-year-old was no stranger to police and the courts.
Raki, known to some as "Mad Dog", gained his first conviction in November 1986. Charged with common assault that month, he was fined $300 in the Papakura District Court.
Less than a year later, in May 1987, he was arrested and charged with disorderly behaviour likely to cause violence.
Raki was convicted in September that year and given another fine, this time $200.
For the next few years he seemed to keep his head down and stayed out of trouble.
Then in October 1993 he was caught drink-driving. He was back in the dock in the now-defunct Otahuhu District Court in February 1994, convicted and ordered to pay a $950 fine and disqualified from driving for six months.
In September 1994, he was convicted in the North Shore District Court of common assault and ordered to come up for sentencing if called upon within 12 months.
For the next few years Raki remained conviction-free, but his clean run ended in April 2000 when he was charged with two counts of assaulting a female. Four months later, Raki was sentenced to 150 hours of community service on each charge, and managed to stay off the police radar for the next nine years.
It all started to unravel again in March 2009, when he was convicted for refusing to give a blood specimen to police.
Raki was fined $800 and ordered to pay $130 in court costs, and disqualified from driving for another six-month term.
In March 2011 he was charged with disorderly behaviour again, and had to pay another $200 fine plus court costs.
Then came his most recent arrest for theft.
Raki's criminal history also shows three charges of failing to provide information to authorities, for which he was convicted and discharged in the Manukau District Court in 2003.
The Weekend Herald tried to speak to those close to Raki - friends, former teammates and family - about his offending and his criminal history.
"Thank you for giving me the opportunity, but I don't have any comment to make at this stage," said Raki's long-term partner, Lee Simons, with whom he has two children, Connor and Taryn.

Judge: Stolen money put into personal accounts
In her decision, Judge Emma Aitken explained how Lindsay Raki stole community money.
When the Manurewa High School Rugby Academy and Counties Manukau Youth Development obtained grants, Raki would wait until the money arrived in the organisation's accounts and then transfer all or part of it into his personal accounts.
The Department of Internal Affairs claimed Raki had no authority or lawful justification to transfer the money, and intended from the beginning to "deprive" MHSRA and CMYD of the money.
Raki denied the thefts, saying he believed he was authorised to make the transactions and that all of the money he took was used "directly or indirectly" in accordance with the purposes of each grant.
Judge Aitken found him guilty on all the charges, saying he acted dishonestly. She also said that upon becoming aware of the investigation into his dealings, Raki created documents to support his claims the transfers were authorised.
"That he would go to such extraordinary lengths significantly undermines his claim that he believed he had authority and legal justification to make those transfers," she said in the judgment.
"In short the defendant is a dishonest witness ... and I am satisfied beyond reasonable doubt that on each of the 11 occasions [Raki] ... intended to permanently deprive the owner of the monies of the amounts."
In the Auckland District Court on Wednesday, Raki was sentenced to two years and nine months in jail.
Judge Aitken said there was "no clear explanation" as to where the stolen money went. In many cases, the personal accounts Raki transferred the funds to were severely overdrawn or empty.
At the sentencing hearing, the Crown said Raki stole money that should have been made available for community purposes, and his offending would have a negative effect on not only the MHRSA, but also related amateur sporting organisations in the area.
It said his offending was premeditated and "moderately sophisticated" over a 20-month period, and Raki had abused the trust of the community by using his position of "responsibility and leadership" to commit the crimes.
Internal Affairs' gambling compliance director Debbie Despard said the agency was "very pleased" Raki had been held accountable.

Lindsay Raki
• Born April 6, 1962
• Educated Manurewa High School
• Maori All Black 1985-86, 1988-90
• NZ Sevens team between 1985 and 1987
• Played more than 100 games for Counties Manukau
• Position: centre
• Qualified and self-employed accountant
• Director of four companies, including his own accountancy business, Ardmore Taxation Consultancy Ltd
• Financial controller of the MHSRA and CYMD
• Father of three