Poor succession planning leaves team with roster of inexperienced players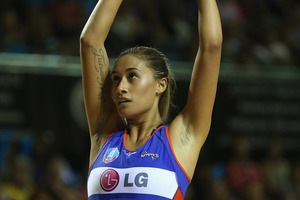 The Northern Mystics admit they have dropped the ball with their succession planning as their rookie players struggle to adapt to a high-performance environment.
While the Auckland franchise had a couple of curveballs thrown at them in the pre-season, with Charlotte Kight suffering a season-ending injury and Anna Harrison withdrawing because of pregnancy, they had 18 months' warning that come 2013 they would no longer have the services of long-serving captain and midcourt linchpin Temepara Bailey (nee George).
Even at the start of the transtasman league in 2008 the veteran midcourter was considered a year-by-year proposition. It therefore seems unconscionable that they did not have a clear succession plan.
Their poor future-proofing and lack of proper development pathways left caretaker coach Ruth Aitken with a creche of inexperienced players ill-prepared for a high-performance environment to plug the gaps in their roster.
After one win from the opening six rounds the Mystics sit ninth on the table, with only goal percentage separating them from the Mainland Tactix - their round-seven opponents - on the foot of the ladder.
Captain Maria Tutaia has made several references to the challenges facing the team off the court as they try to get the youngsters up to speed with the demands of a professional league. She told the Weekend Herald three weeks ago that some of the "babies" in the team had found it a steep learning curve.
"We've all got to learn to be accountable for our actions. We've got a lot of young players in the team, who are still getting used to this environment so we've got to help them through a lot of stuff," she said.
Coming into the environment the youngsters had little appreciation for even basic standards like being punctual for training, making sure their hydration and nutrition was up to scratch, adhering to the recovery protocols and informing team management and medical staff as soon as they noticed a twinge - things that should be second nature for all top-level athletes.
Aitken and her management team have had to spend a lot of time drilling players on their off-court habits, taking time and focus away from their on-court development.
Mystics chief executive Julie Paterson said that with no formal development pathways in place at regional level, the franchise had brought in training partners over the past few years to try to build depth. A change in the players' collective meant the Mystics could formally contract development players this season, but the loss of Harrison and Kight meant those players have been elevated to fulltime spots.
"Realistically, we didn't expect that they would be getting a lot of court time. We had intended to bring them into our environment, getting an understanding of the workload, the intensity and the commitment and maybe getting a quarter here and there if they're performing really well," said Paterson.
"It's challenging for everybody, I mean you imagine how those kids feel themselves coming into that environment with only really a limited understanding rather than hands-on experience working in a high-performance environment."
Paterson, who led the Southern Steel for the first four seasons, said that given the franchises operated in isolation from the regional bodies over the first five seasons, other franchises were in the same position. She said that with no strong competition underneath the ANZ Championship, and a lack of resources to support the next tier of players, franchises had been forced to throw players in the deep end.
"I've said this for five years since the ANZ Championship started - it was exactly the same with the Steel. We were picking up kids and putting them in a high-pressure environment and expecting them to train at a level and intensity that they have never experienced before," she said.
"Generally speaking players will come into a franchise and spend the first 12 months learning what it means to be in a high-performance environment."
Paterson believes the recent restructuring of New Zealand netball, which saw the 12 regions replaced by five zones, will make a "massive difference" to how players are prepared for franchise competition. Each zone has been aligned with a franchise, making for more streamlined development pathways, which will include creation of an under-23 competition.
"We've had a lot of discussion over the past few weeks around how we set up our high-performance programme and how the under-23 programme fits into developing players ... I think it will make a massive difference."
ANZ Championship
Round 7
Tomorrow: 2.10pm Queensland Firebirds v West Coast Fever, Brisbane; 4.10pm Melbourne Vixens v Central Pulse, Melbourne; 7.20pm Northern Mystics v Canterbury Tactix, Auckland.
Monday: 7.40pm Southern Steel v NSW Swifts, Invercargill; 9.40pm Adelaide Thunderbirds v Waikato-Bay of Plenty Magic, Adelaide.