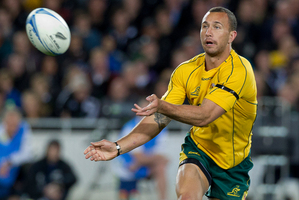 Some people in Australia may have dismissed the Lions as "slabs of red meat", but Robbie Deans rejects the characterisation as a filthy great slab of nonsense.
"I don't know where that stuff came from," said the Wallabies coach. "I have a lot of respect for these Lions. This will be a remarkable, fantastic series - the ultimate rugby experience."
Deans has no intention of playing the baiting game ahead of next month's tour or indeed during it. He is too much a creature of his own non-Wallaby rugby culture to fall prey to fast-talking distractions. But there are plenty of other rugby folk in Australia prepared to wind up the Lions ahead of departure and they started when the 37-strong squad was announced.
One Sydney newspaper referred to the Scotland wing Sean Maitland as a "Kiwi discard", a comment that may have brought a wry smile to the home coach.
Like Lions head coach and selector Warren Gatland, Deans expects to have virtually all his A-list players available. James Horwill, the Queensland lock who led Australia at the last World Cup before breaking down with a series of injuries, is back at Super 15 level; the midfield trickster Quade Cooper is slowly playing his way back into Deans' affections after talking his way out of them last year; and the troublesome, if undeniably gifted, Kurtley Beale is close to putting his latest disciplinary excesses behind him.
"We've given up naming our captains before we gather to prepare for test campaigns," said Deans, "but Horwill is clearly a contender. He had some pretty serious hurdles to clear before getting himself back on the field and it's good to see him playing again.
"The Melbourne Rebels have named Kurtley on the bench for their game this weekend, so he has obviously convinced his peers and the coaching staff that he's in the right frame of mind. As for Quade, he wants to be involved and he's playing consistently, which is great. The things he said have never been an issue from my perspective. We want personalities in our group: we want passion and vibrancy. There's no baggage with Quade."
If none of this was particularly good news for Gatland and company, there was worse to come. The form open-side flanker in the Super 15 tournament has been George Smith, who was in the Wallaby back row the last time the Lions toured Australia in 2001 and shows every sign of earning himself a second shot after rejoining the Canberra-based Brumbies following lucrative stints in France and Japan.
At 32, he should in theory be more than satisfied with the 100 caps already in his bottom drawer. In practice, he is anything but.
"George has expressed interest in playing. He's definitely keen," confirmed Deans, who lost his best breakaway forward, David Pocock, to long-term injury and would love to see some experience underpinning the youthful promise of Michael Hooper and Liam Gill.
The coach will name a 25-man squad later this month and then add six more players a couple of weeks before the opening test in Brisbane on June 22. Precious few of those big-match candidates, if any, will face the Lions in the warm-up games. If the Force, Reds or the Waratahs are weakened as a result, so be it. Deans intends to prepare properly for this series, and damn everyone else.
"Warren has picked a powerful squad in every way, in every meaning of the word, so we'll need our preparation time," he said, unapologetically. "The Wallabies will have played 15 rounds of Super rugby by that point and we'll need to get the players right. As it is, we're facing the shortest preparation period we've ever had, while the Lions will have played games together."
Just as it was for Gatland in selecting the squad, the climactic Six Nations game between Wales and England in March is the benchmark for Deans as he plots his campaign.
"It was brutal, that game the intensity and the pace was relentless for 80 minutes," he said. "From our perspective, it gives us an insight into what's coming our way." Independent