Nicholson wants the grand slam, but even more, he wants his first Badminton title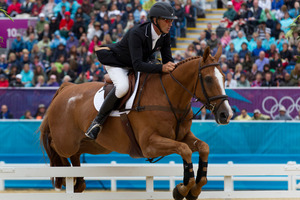 Andrew Nicholson is trying to become only the second person to win eventing's grand slam - but he is more intent on achieving a first of his own.
Nicholson, the world No 1 and one of the most decorated riders in eventing history, has never won at Badminton. He's been around the cross-country course at the famous venue 32 times, and holds the record for the most completions there. But he's never won.
Winning this weekend would be extra special. Victory would make him the second person, after Pippa Funnell in 2003, to win the grand slam - Badminton, Burghley and Kentucky - and pick up a US$350,000 ($410,000) bonus. But more than that, it would break his Badminton drought.
"It's like the Wimbledon of eventing," the New Zealander says from his home in Wiltshire. "It's the home of our sport and the whole place is very pressurised. You get 250,000 people on cross-country day, that's a lot of spectators paying to watch you perform. It's pretty much what we do it all for.
The grand slam bit is an absolute bonus."
What is a fillip for marketers is the fact two riders are going for the grand slam. It's not something that can normally happen, but the cancellation of last year's Badminton because of a water-logged course means William Fox-Pitt, who won Burghley in 2011 and Kentucky last year, can also achieve the feat.
The pair have been battling it out for years at the top of the equestrian circuit and, adding to the rivalry, Nicholson's partner is Fox-Pitt's ex-wife.
"For our sport, it's quite an unbelievable marketing tool to have me and William in with a chance of winning US$350,000 if we win," Nicholson said.
"I think it's great for the sport but, for me as a competitor, all I can do is focus on what horses I have, what they do and what I do and do that to the best of our abilities.
"I would love to win Badminton first off. If I end up winning the grand slam, that's a major bonus. But it's no good me getting all stressed out about it now. Best I just go and do what I do with my horses and, hopefully, it will be good enough to win."
It often is. The 51-year-old has won his last three four-star events, having won only two in the previous three decades, giving him a clear lead in the FEI Classics series which is for the best rider in the six four-star events.
All three four-star victories were achieved on different horses, and this weekend he will ride his top two mounts, Nereo and Avebury.
His original intention was to take one to Kentucky to improve his chances of winning there but decided to save them for Badminton and won in America on Quimbo, a young horse competing in his first four-star event.
Ten days away from his combinations on the eve of Badminton might not seem ideal but Nicholson thinks it was a good thing.
"I have very good people around me now who come in and work each day with the horses," he said. "Being away for 10 days was not a big problem and, in some ways, it's probably a bit of a plus because if I was riding those horses for 10 days solid I would probably be putting a lot more pressure on them.
"They are ready to go to a big event. These older horses know in their preparation when you start stepping their workload up they have serious competition coming up. And they feel great to me. If I had been here for 10 days I might have over-schooled them, over-trained them."
Nicholson and Fox-Pitt aren't the only contenders in a field described as the strongest in a decade.
World, Olympic and European champion Michael Jung is making his Badminton debut, and there's also a strong British contingent including Zara Phillips, Nicola Wilson, Mary King and Tina Cook as well as a couple of Kiwis.
Four-time champion Sir Mark Todd is the only Kiwi to win Badminton, including the last time in 2011, but is missing his top two horses.
World No 4 Jock Paget is a rising talent with a couple of impressive horses in Clifton Promise and Clifton Lush.
But it would be appropriate if it came down to Nicholson and Fox-Pitt. Nicholson has been living in the UK for more than 30 years but is still staunchly patriotic to New Zealand and was heartened to hear his achievements had created interest in his homeland.
"That gives me a real buzz," he said. "Trying to get the national anthem played in whatever country we are in is part of the reason we do it. We are a long way from New Zealand, but when we hear that anthem it feels like you are at home."

How it works
• There are two days of dressage, plus the cross country on tomorrow night (NZT) and show-jumping on Monday night.
• Badminton, Burghley and Kentucky make up the grand slam of eventing. There are three other four-star events - Pau in France, the Australian International 3DE and Luhmuhlen in Germany.
• The winner of Badminton receives $117,000 and the winner of the grand slam $410,000.
• 85 combinations will line up for this year's event. Last year's Badminton was cancelled because of bad weather - the fifth time it had happened since it was first held in 1949 - and the 2001 event was cancelled because of a foot-and- mouth epidemic.