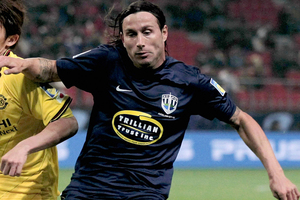 They may be playing in front of one of Kiwitea Street's biggest ever crowds but Auckland City will be aiming to restrict the action when they play Ba on Sunday.
Hosting the Fijian champions for the first leg of their O-League semifinal, the onus will be on Auckland to prevent their opposition from grabbing an invaluable away goal ahead of next weekend's return match.
With Auckland having finished behind Waitakere in their group, Ba have the advantage of hosting the decisive second leg, and City striker Manel Exposito knew exactly what his side required from Sunday's match.
"The hope is to try not concede a goal,'' Exposito said. "Away goals are really important, and we know they're going to be a really strong team. They'll be good defensively and good on the counter, so basically we'll try to not concede.''
Auckland would probably settle for taking a slim lead to Fiji as they search to win the O-League for the third year running and earn a place at the Club World Cup in Morocco.
But neither Ba nor their supporters will make it easy for the defending champions. The Fijians were unbeaten in pool play, while a strong expatriate contingent is expected to pack out Kiwitea Street.
Auckland City have put on sale 3000 tickets for the intimate venue and they expect the majority to be snapped up, giving the game a crowd to match the stakes.
"That will be really awesome, to be honest,'' Exposito said. "It's always good to have it feel like a proper football game.
"They reckon it could be the best crowd in the history of the club, so it's good for us playing at home and having a good environment.''
Auckland must almost feel as if they're playing with house money at this stage of the competition, having been so close to elimination after losing to Waitakere a fortnight ago. But results fell their way and Exposito's equaliser grabbed the point they needed from their final group game in Tahiti.
The Spaniard was satisfied with his personal form but he thought the Ba defence would be hard for his side to break down.
"I'm pretty happy as long as the team gets the result. That's the most important thing but, obviously, if I can score important goals it's good for me and good for the team.
"We know it's going to be a really tough game and they're going to be really defensive as well. They might sit really deep and try to not concede and hurt us on the counter.''
In the other semifinal tie, Waitakere United will face Vanuatu side Amicale at Port Vila on Saturday afternoon.
- APNZ