New Crowe book heals old enmities, and the football pundit who didn't rat on the deal.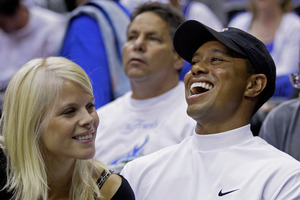 Clone wars
Those who say Tiger Woods has found an Elin Nordegren look-a-like in superstar skier Lindsey Vonn are out of their minds. That's Woods there on the left with Lindsey ... hang on, no that's Woods on the left with Elin. No, on closer inspection, that's definitely Lindsey.
Anyway, whatever way around they are, the claim is ridiculous.
The Crowe style
At Supershorts Towers we're told the release of a book by Martin Crowe is imminent and will contain a number of, ahem, attacking shots. In an ironic twist, the tome is being published by long-time sports writer Joseph Romanos.
Those with a memory of the cricket wars of the 90s will recall Crowe and Romanos were far from bosom buddies, particularly after Romanos' unauthorised and not always flattering biography of Crowe - Tortured Genius - hit the shelves.
Bad call
Which wannabe commentator drives colleagues to drink with an incessant need to analyse the minutiae of everyday life as if he was calling the final of the Olympic 1500m?
See you again soon
Tania Dalton's next job could be one of those stadium ushers who make sure the last thing patrons see when they leave an arena is a smiling face. Her "thanks for coming!" count when commentating the absorbing Pulse v Magic match on Monday was approximately 367.
Taking the p***
And Eden Park residents reckon they've got it rough when the Warriors play at the home of rugby.
Forty-nine rugby fans were fined £80 ($146) each for weeing in the streets of Twickenham before and after last weekend's Army vs Navy match, according to metro.co.uk.
But residents say although they are grateful, they have some sympathy with visitors caught short - as just 10 portable toilets are set up in the town centre for big games.
"We need the RFU, the pubs and the booze retailers to jointly fund many, many more portaloos for all significant matches," one told the Richmond and Twickenham Times.
The Army won, 34-19.
Name of the week
Introducing Barkevious Mingo, the sixth selection of last week's NFL draft. The former Louisiana State linebacker was picked by the Cleveland Browns, who have a fan section at their home ground called the Dawg Pound. Dawg + Bark = countless marketing opportunities.
Eating his words
French football pundit Eric di Meco was forced to eat a rat after dismissing the prospects of a young player three years ago. When Marseilles signed Spanish defender Cesar Azpilicueta in 2010, their then president Jean-Claude Dessier described him as "Spain's future right back". To which di Meco told listeners on his radio station: "If that happens I'll eat a rat."
Azpilicueta, now playing for Chelsea, made his debut for Spain last month. According to reports, di Meco was true to his word eating a coypu, a species of river rat, live on air.
No RSVP to rvp
Sometimes it's not easy being Ravi Visvesvaraya Prasad. The Indian telecom and infotech consultant is a social media fan and uses @rvp as his Twitter handle. Most of the time it's fine, but he was probably curious how he accumulated more than 5000 followers so quickly.
All would have been revealed when he received a deluge of congratulatory messages recently. For the record, @rvp is NOT the account of Robin van Persie.