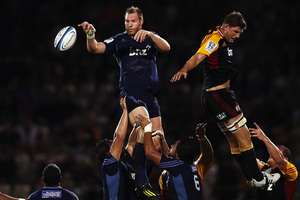 The Blues' rugby diet has been a heavy intake of transtasman fare.
A third round contest against the Bulls was the only variation, a match in which they gambled with some selections and came off second best.
At that stage the Blues were on a mini-roll with impressive wins against the Hurricanes and the Crusaders.
There was a feeling of rugby resurgence throughout the region as crowds warmed to the work of the players and the new coaching crew headed by Sir John Kirwan. Then came the Bulls' speed bump.
Tonight against the Stormers at North Harbour Stadium, the Blues face a similar obstacle with their second taste of South African rugby talent.
The teams have the same win-loss record but the Blues' ability to collect bonus points has them in the lead group and their rivals mid-table.
The Blues work hard either side of the rucks to find space for their athletic backline talents while the Stormers prefer more mauling, driving play backed by the plundering skills of Bryan Habana and Gio Aplon on the flanks.
Both emphasise their defensive systems as weapons to frustrate their rivals and like to initiate counter attacks from turnovers.
The Blues' tackle line is more conventional while the Stormers' captain, Jean de Villiers, often leads a rush system. That method can create intercepts against diffident opponents not used to such a smothering pattern but it also offers space on the flanks for expressive backlines.
The work done up front, in the set-piece and at the breakdowns will decide how the backlines are able to mix up those plays.
Neither pack looks to have the most damaging scrum in the competition and may cancel each other put if conditions stay dry.
The lineout, tackle and breakdown will be different. It is not often Andries Bekker is bested in the Stormers' lineouts and his presence, alongside other targets like de Kock Steenkamp and Duane Vermeulen, will put the Blues under the heat on Keven Mealamu's throw. The Stormers love to attack with the rolling maul as well and stopping that phase early, with the blessing of referee Glen Jackson, will be a Blues' priority.
So too the breakdown where Luke Braid and Steven Luatua lead a strong Blues raiding troupe.
The Blues have scored 20 tries this year and conceded 12 while the Stormers have nailed 15 tries and yielded only 11 touchdowns.
Margins in matches like tonight are often as small as both sides discovered last round.