Cameron McMillan looks at players who are playing well above their Fantasy value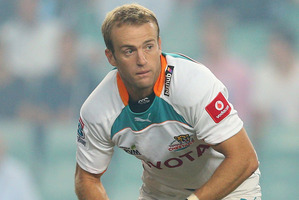 In a post-GFC world most of us are working to a budget. If you're using the same philosophy for your Fantasy team you might want to consider the following backs.
Bargain Backs
Robert Ebersohn (Cheetahs)$8,410,000 - 144 points, 10 games
Ebersohn's stats heavily rely on a two-week stretch where he scored 60 points against the Highlanders and Waratahs. Regardless, he remains the top scoring back with 10 more points than Joe Pietersen (Stormers). There are 105 backs more expensive than Ebersohn, which is staggering.
Israel Folau (Waratahs)$7,750,000 - 110 points, 9 games
Even cheaper is the former league and AFL star who scores a touch over 12 points a week. Despite being priced at almost $2 million less than others, Folau is eighth in points scored.
Frank Halai (Blues)$7,710,000 - 95 points, 8 games
Continuing the bargain basement deals, Halai had a strong start to the season with 48 points in his opening two games and is recently making up for a slump which followed.
Like Folau, priced well behind 120 other backs, but a top 12 scorer.
Johann Sadie (Cheetahs)$7,580,000 - 95 points, 10 games
Looking at his week-by-week numbers, Sadie hasn't had any breakout games but he's consistent.
Charles Piutau (Blues)$8,740,000 - 107 points, 8 games
The most expensive player of our budget backs and like teammate Halai, almost a third of his points came in week one but recent performances show he's still worth a go.
Most expensive back
Israel Dagg (Crusaders)$10,040,000 - 58 points, 7 games
Bargain five-eighth
Christian Lealiifano (Brumbies)$8,410,000 - 179 points, 10 games
Lealiifano leads all scorers with an impressive 179 points, despite being the 15th most expensive first-five. Morne Steyn has a better average per week but is $1m more than the Brumbies number 10. Lealiifano's value has increased for nine straight weeks but still remains a bargain scoring 67 points over his last three games.
Most expensive first-five
Morne Steyn (Bulls)$9,450,000 - 177 points, 9 games
Bargain halfback
Sarel Pretorius (Cheetahs)$5,490,000 - 79 points, 8 games
Pretorius is the bargain player of the whole competition. There are 40 other halfbacks in the competition who are more expensive than the Cheetahs No9, who failed to add to his points advantage on the rest of the field last week after starting on the bench.
Most expensive halfback
Francois Hougaard (Bulls)$8,420,000 - 39 points, 4 games